Who is Sherman?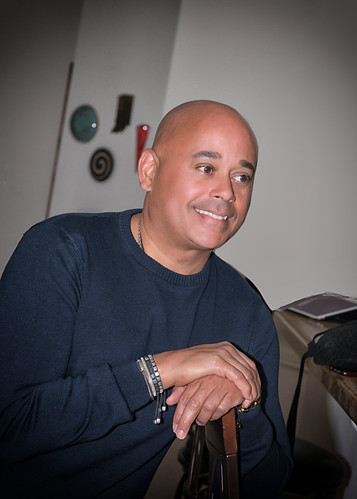 You may have seen him about town spotlighting a small business or promoting a local event or charity on the FOX59 Morning News feature, "Where is Sherman." Recently, I sat down with Zionsville resident Sherman Burdette to find out who Sherman is and how his life's travels led him to host the popular local morning segment.
Burdette, a two-time Emmy Award winner, is an Indianapolis native and a graduate of IPS School #43, Broad Ripple High School. He graduated from Ball State University with a degree in telecommunications and theatre.
"My junior year in high school, I wanted to be an actor and be on stage," Burdette recalled. "I was selected for parts because of my theatrics and facial expressions. My focus was completely on theatre. I did not want to go directly to college. I wanted to go New York City.
"I planned to audition, become an actor and work as a flight attendant while stationed in NYC. I presented this plan to my grandfather who, along with my grandmother, helped raise me, and he said that I was welcome to go do that, but that he would not support me financially."
After a swift change of heart, Burdette applied to Ball State. Even then, before the David Letterman donation days, the university was known for its telecommunications department. Burdette went into his college career majoring in theatre and minoring in telecommunications. During a career planning class, Burdette had a sudden epiphany and decided that he wanted to become a television news reporter.
"I had some obstacles at this point," Burdette confessed. "I wanted to be on-air, but I had braces and was developing acne. At age 22, I looked like I was 12. I ended up getting my first television job as a videotape editor at WISH-TV. I edited work for Debbie Knox, Patty Spitler and Tina Cosby. My work at WISH-TV laid the foundation for me and taught me how to be a good reporter by being an editor.
"I often tell the young professionals in this industry who want to jump right into an on-air position that if they want to be in the business, then there are steps to make them truly successful. If they want to be on TV just to be on TV, they are in the wrong business.
"If they truly want to be a good storyteller or are great on live TV, then I feel that the individual needs to begin his/her career behind the scenes. They should be knowledgeable about the inner workings of a newsroom. My experience behind the scenes saved my career. As an editor, I watched the anchors prepare for their segments and learned from them on how to be a good reporter."
Chasing an earlier dream at age 26, Burdette left WISH-TV to test the waters as an actor in Los Angeles. He admitted that was a tough transition and how difficult it is to get a break in L.A. He came close to landing a role in the '80s TV series, "In the Heat of the Night," and auditioned for the role of Sgt. Wilson Sweet. After two years in L.A. and being passed over for the role, Burdette decided it was time for him to return to television news. His first on-air job was in Meridian, Mississippi, as a sports anchor.
"I worked as an anchor in Mississippi for only about a year when I was called into the office on a seemingly typical work
morning only to be told that the station was shutting down the news operation, effective immediately," Burdette shared. "Keep in mind, it's 1989, I'm making $13,000 a year and I just became unemployed. Perhaps that should have been a signal to me, but I forged on and took a job in St. Joseph, Missouri.
"From there, I went on to work at a station in Wichita, Kansas, then Kansas City, Missouri and onto Rochester, New York. I was freelancing in NYC when I took a job that was offered to me by a former employer who had relocated to Scranton-Wilkes-Barre, Pennsylvania. I always tell the young professionals in our industry not to ever burn bridges. My former boss hired me as a consumer reporter. He allowed me to create the on-air persona that developed into the lifestyle personality that our viewers see from me today. That opportunity allowed my personality to drive the segments. One could say it was the genesis of the 'Where 
is Sherman' product."
In his current role at FOX59, Burdette has created a blend of everything that defines him. He is an actor, a reporter and an advocate for his community.
"I am blessed to be able to do what I do," Burdette expressed. "Everything came full circle for me and brought me back to my hometown. The element of community is one of the things that drives me. I enjoy being able to profile small businesses and brick and mortar shops. I really am a small town guy.
"After traveling and working around the country, I've discovered that what really makes this country successful are the small towns, small businesses and the community events that go along with those. For me, small towns are big news.
"The paying it forward fundraisers are very important to me. We do a segment on FOX59 Morning News called 'Paying It Forward.' While I can't name just one particular segment that impacted me the most, I can say that the ones where we have featured children battling a terminal illness and watching them champion for their causes with cheerful dispositions and bright smiles are the ones that inspire me the most. Those are the ones that make me sit back and think to myself how blessed I really am to be able to do this job."
Burdette recently moved to Zionsville in 2014. He would often visit the historic suburban town when visiting his family. His mother was battling pancreatic cancer when he received an email from FOX59. This led to him moving to Indiana and developing "Where is Sherman."
As a northside resident, Burdette has featured many of the diverse businesses, galleries and specialty shops in Carmel. "After I moved back to Indy, I was impressed with all of the new developments in Carmel," Burdette expressed. "I've traveled extensively and have lived throughout the country, and I can say with certainty that Carmel ranks up there with the nation's top suburbs.
"I love the local art and the entertainment venues in this city. Most of my personal art collection is of paintings and pottery from local artists. It is an incredible city to work, shop, live and entertain in. Carmel is just another one of my favorite things about being back in my home state of Indiana."
Tune in to see Sherman on FOX59 Morning News weekdays from 7-10 a.m. and visit fox59.com under Morning News/Where is Sherman to view his segments online.