What's New at Carmel Clay Schools?
August 2017
Writer // Janelle Morrison Photography / Julie Curry Photography
Another summer break has come to pass, and a new school year is about to embark. As the students prepare for their first day back, Carmel Clay Schools Superintendent Dr. Nicholas D. Wahl gave us an overview of the new principal appointments and other exciting new additions to the school district this year.
"We've got some great administrative growth opportunities for four of our leaders," said Dr. Wahl. "Dr. Thomas Harmas gave us 14 excellent years of leadership and service at Creekside Middle School. He started that school, staffed it and created a climate which became a culture of excellence, but more importantly, focused on students' social and emotional learning and wellness. He did a great job with that, and we look forward to him taking that leadership talent to Carmel High School. He does an excellent job of growing leaders in his building by not only growing his assistant principals, department chairs and classroom teachers to be leaders, but he gives the students an opportunity to be leaders too. That is a big skill set and an asset that Dr. Harmas brings to CHS."
Dr. Harmas taught at Creekside Middle School since its opening in 2004. In that time, the school grew from 800 to 1,600 students.
CCS' Board of Trustees appointed Deanna Pitman as the next principal of Carmel Middle School (CMS). Pitman will replace former CMS principal Lila Jay who was named the new principal of Smoky Row Elementary. Pitman has held various leadership positions within the district, including serving as Assistant Principal at Creekside Middle School and Principal at College Wood Elementary.
"Carmel Middle is a wonderful school with a supportive community grounded in a history of tradition," said Pitman. "As a former teacher there, I know firsthand the passion that students, parents and staff members have for their education. I am honored to have been selected to continue the great history here, and I look forward to building lasting relationships with students, families and the staff."
"Deanna's skill set is one where she builds a community within a building where everyone is collaborative, from the teacher to the parent to the administrators in the building," said Dr. Wahl. "She brings a positive energy to CMS. She also brings a unique articulation piece as far as not only curricular articulation but the wellness needs of our kids as they go from elementary to middle school. We're very excited to see Deanna at CMS, leading that building this year."
Dr. Tim Phares was appointed by the CCS Board of Trustees to serve as the next principal of Creekside Middle School. Dr. Phares will succeed outgoing principal Dr. Thomas Harmas. Dr. Phares has spent 17 years in education, most recently serving seven of those years as principal of Towne Meadow Elementary. He began his career at Carmel Clay Schools' Orchard Park Elementary, teaching kindergarten and fifth grade. He has also held roles as an assistant principal at Prairie Trace Elementary and principal at Orchard Park Elementary.
"I am humbled and honored to be selected as the principal at Creekside Middle School," said Dr. Phares. "Creekside is an example of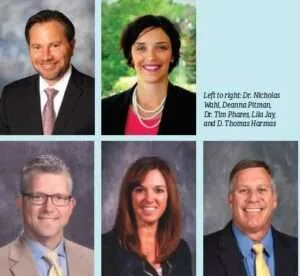 educational excellence, and I could not think of a better place for me to continue to learn and grow in my educational journey. I look forward to meeting the students, families, and staff at Creekside and building positive relationships for years to come."
Dr. Wahl is pleased with the board's appointment as well. "Dr. Phares is a driven community leader," he said. "He has tremendous relationship building skills and works well with parents and teachers. He builds that climate and culture where everyone feels like they are part of a family. He's going to take that to Creekside where that has been established and continue to grow that."
Lila Jay, the new principal of Smoky Row Elementary, previously served as principal at CMS for seven years. She replaces Kim Barrett who retired in June of this year.
"Lyla Jay comes from CMS to Smoky Row and is a tremendous asset and an extremely close fit to the profile," said Dr. Wahl. "She brings that articulation piece that I was talking about with Deanna. She has the middle school experience coupled with her elementary background where she is going to have a K-8 view of what our students are experiencing, and that will be a real big asset to Smoky Row. Her genuine compassion and focus on students is her skill set, and she is a relationship builder as well."
Dr. Wahl went on to discuss his idea of "unstructured play," otherwise known as recess, and how the administration is empowering teachers to make real-time decisions on the needs of the students this year.
"We've expanded this conversation to the teachers in the classroom, the real leaders of our kids, on the real needs of the students during the day. The research shows, very clearly, that unstructured play is a healthy activity during the day, and the brain research supports that kind of physical activity. We will continue to have traditional daily recess in every elementary building, but we're going to defer to the teachers when their students need to get up and move around or take a 'brain' break, a more structured break in the classroom or outside, weather permitting. We trust our teachers to know what is best for the children inside of their classroom every day."
Dr. Wahl concluded with thanking the community and its leaders for their support of the recent referendum earlier this year. The daunting task of meeting with taxpayers, leaders, and educators and educating the public throughout the election cycle paid off for Dr. Wahl and his supporters when the community voted "Yes" to Carmel Schools.
"I would like to thank the community for their confidence and their endorsement of our children in the referendum," said Dr. Wahl. "Our community voted for children. That speaks so highly of the value of public education in Carmel. That will allow us to do what we do best: offer opportunities in and out of the classroom where the children can grow academically, socially and emotionally. Our students can realize their dreams and expectations that they have for themselves and that their families have for them. That should be a big celebration for our community."