Seema Verma: A Carmel Resident in Charge of American Healthcare
September 2017
Writer / Janelle Morrison                 Photos / Submitted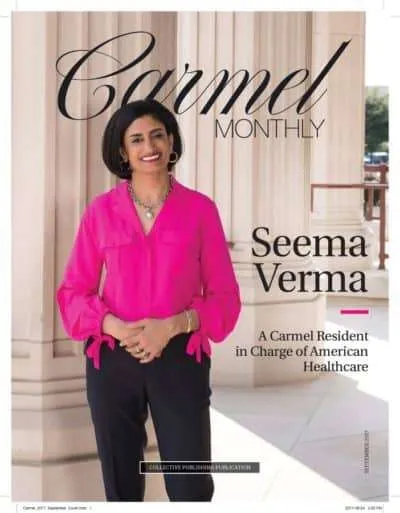 Perhaps some of you recognize her as someone you have passed in a grocery store aisle or out with her family enjoying one of the area restaurants. You may have engaged her and her family in conversation at the Carmel Farmers' Market on a Saturday morning. What you may not know about Seema Verma is the work that she does during the week and how it affects every single American throughout the nation.
Verma is an American health policy consultant and the current administrator of the Centers for Medicare and Medicaid Services (CMS), serving under the Trump administration.
On November 29, 2016, then President-elect Donald Trump nominated Verma to serve as administrator of the Centers for Medicare and Medicaid Services, the health department agency that oversees the Obamacare insurance markets, Medicare and Medicaid. On March 13, 2017, the U.S. Senate confirmed her nomination in a 55-43 vote, and she was sworn in by Vice President Mike Pence on March 14, 2017. Verma reports directly to Dr. Tom Price, the Secretary of Health and Human Services. He is a member of the Cabinet and reports directly to President Trump.
Emerging from the private sector into her current role was a natural transition as Verma was an established conservative healthcare policy reformer under Governor Mitch Daniels and continued to serve under former Governor Mike Pence during his administration. Her experience and practical knowledge of healthcare policy were what led to her appointment to the role that would put her at the helm of the nation's healthcare reformation and redevelopment.
Prior to her appointment in Washington, D.C., Verma has been pioneering new ways to approach Medicaid since authoring the Healthy Indiana Plan in 2007. Verma was the architect of this health insurance pilot program and would also work along with the aforementioned governors on creating "Healthy Indiana Plan 2.0."
In addition to her daunting responsibilities in D.C., she is a wife, mother of two and a proud resident of Carmel.
Verma and her family moved to Carmel from the Indianapolis area in 2005. Her husband, Dr. Sanjay Mishra, is a child psychiatrist and runs a medical practice through the Indiana Health Group in Carmel, and they have a son and daughter. Verma is the founder and former CEO of SVC Inc., a health policy consulting firm that is based in Indianapolis.
In an exclusive interview with Verma, she spoke about her appreciation for her home city of Carmel, her journey to her current role in D.C. and about the support and sacrifices that her entire family has made so that she could realize her goals and dreams and serve her country.
"I was born in Virginia, but growing up, we lived in a lot of different places," Verma shared. "We lived in Joplin, Missouri, which is a small town, and we lived right outside of Washington, D.C., when I was in high school, so I've lived in both large and small communities. We also lived overseas in Taiwan for about five years, so we've been in a lot of different places throughout my life. Living in the greater Indianapolis area is the longest that I've lived in any one place. We absolutely love the community, and I certainly love the roundabouts. It makes traffic easier to navigate."
In general, Verma said it was the amenities that the city of Carmel offers and the blend of a "small town and an up-and-coming modern city" that she finds attractive about living here.
"It's like a small town when you go to the farmers' market on a Saturday morning, or if you are at the library or grocery store, you always run into people that you know. We have a lot of great restaurants and shopping and great schools. It's also great that we are close to Indianapolis and can easily travel downtown to get to a Pacers or Colts game."
When asked why she chose this career path, she replied, "I've always been attracted to government and politics. With my undergraduate work in public health, I just liked the idea of focusing on helping people. At first, I thought that I would focus on medicine, but with public health and policy, there's a lot that goes on outside the actual delivery of healthcare that influences our health. And I thought that I could make a larger difference in the lives of people being more policy focused."
Verma explained that she started her company, SVC, Inc., because she was a working mom and felt like it would provide her the flexibility that she needed with a young family. She didn't really go into it thinking about developing a small business. Her focus was on creating flexibility for her family and to make sure that she could pick them up from school and attend their school events. Over time, her business grew to where she was consulting not only in Indiana but for several other states.
"It gave me the opportunity to gain a national perspective on healthcare issues that went beyond Indiana," Verma stated. "I think that our company did a lot of cutting edge work, and we became the company that folks would look to when they were thinking about doing something innovative in their healthcare programs. In terms of accepting my current job, I couldn't do both, so it was a new phase of my life, and I was happy to move on to the CMS position. We had a great team at SVC, and I am sure that they're working to support the states and their customers and are trying to continue to be creative and innovative."
Verma emphasized she counts on the experiences she had in Indiana and with working with other states to guide her day-to-day work. "The president was very clear that he didn't want to just rely on the traditional D.C. folks and wanted to bring people from outside of the beltway that have more practical experience, more private-sector experience. My work in Indiana has given me a better sense of how policy is actually implemented on a day-to-day basis and how it's going to impact someone's life or how it's going to impact a medical practice or hospital. I think that experience is unique."
With both of her children in high school, Verma and her family decided that this was the right decision and the right time for Verma to accept the position and work from D.C. during the week. She explained that it was a family decision and that they look at this as their public service to their country.
"My son has just started high school, and my daughter is a senior who preparing for college, so there is a level of independence that they have at this phase that makes me being away a little easier," Verma said. "No matter how busy I am, it's a priority that we touch base every single day. The good thing about being in D.C. is that I am ultra laser-focused on my work when I am there. I am incredibly lucky to have a supportive spouse. My husband has been terrific and supportive of my dreams and goals. He is the real hero in all of this. He changed his working hours to make sure that he is home with the kids after school, coordinates their schedules and drives them to where they need to go and is happy to do it.
"We look at our situation as public service. It's our contribution as a family to the country. There are a lot of sacrifices that we make and a lot of vacations that I haven't been able to attend, and I do miss out on some of the activities at school, but we really do look at it as public service. As a family, we are inspired by military families that go through something like this all the time and to an even greater degree.
"I am fortunate to make it home every weekend, but that gives me inspiration, looking at the sacrifices made by our military families. I look at this as a pleasure and honor to serve. I want to make sure that I am making a valuable contribution to the American healthcare system. There is always this great sense of responsibility and wanting to make sure that I'm doing not just a good job but truly an excellent job that addresses the core issues in our healthcare system and moves us forward."
In addition to her family's support, Verma praised her neighbors and friends for their support and assistance while she is away.
"We get a lot of support, and I really appreciate coming home because I look at it like a reality check. Sometimes when you're in D.C., you're in a bubble. Every single time I drive home, I get a sense of what real life is and what real people are going through. I've got an incredibly supportive neighborhood that is always willing to help out, whether it's my neighbor Michelle who drops off a plate of cookies or our other neighbors who offer our kids rides when necessary. I am very appreciative of our Carmel community."
Verma concluded by sharing her thoughts on her work and the legacy that she hopes to leave after her time in D.C.
"We take our healthcare delivery system for granted," she emphasized. "If you're not using it, you don't really think about it. But when there's an emergency or something goes wrong with your family and you need the healthcare system, you want to know that it's there, that it's providing high-quality care to all Americans and that people have access to that care.
"At CMS, we're doing so many things. We're not only running the Medicaid program and Medicare program; we also run Obamacare and implement large pieces of the Obamacare program. We are also responsible for the safety and quality of nursing health facilities and for hospitals and laboratories. We have so many different pieces that we are looking at, and so when I look back at this, I want to make sure that we have continued to ensure that Americans have access to the best healthcare system in the world."