Now Open—Pete's Classic Cars Storage & Restoration
July 2019
Writer // Ann Cinnamon Photography // Laura Arick
In 1989, Ilya Grabovsky and his wife, Angela, were living in their native Ukraine with their three children, Eric, Karina and Leonid. Hoping to escape religious persecution and with an eye toward the freedoms that were impossible under Soviet rule, Ilya packed up his family—including his wife's parents—and set off for America.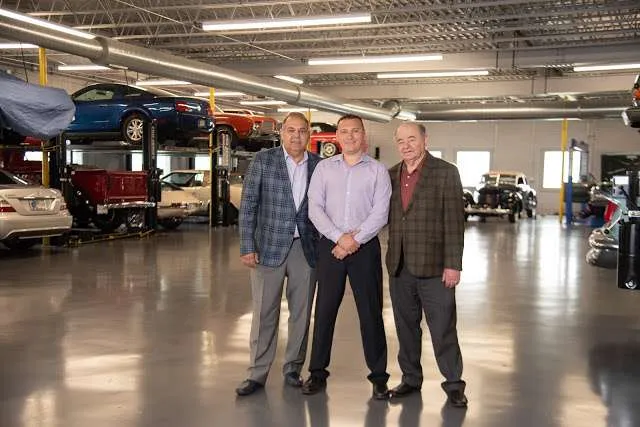 They arrived in Indianapolis with a total of $284, unable to speak the language.
Three decades later, Ilya and his son, Eric, are owners of Pete's Service Center and Pete's Classic Storage & Restoration. It seems an unlikely journey but one that the elder Grabovsky calls "the classic immigrant story."
Ilya Grabovsky had worked at a factory in Ukraine that manufactured brake pads and brake shoes, so automotive work was a natural choice. "The first job of mine," said Grabovsky, "was at Bud Wolf Chevrolet as a mechanic a position he landed with the help of Leonid Perel a friend who not only got him a job but even purchased and gifted first set of tools. Leonid also had emigrated from Ukraine 10 years.
By 1995, Grabovsky, with the help of his father-in-law, Edward Vyshko, was able to buy Pete's Service Center at 4902 N. Pennsylvania in Indianapolis. The Grabovsky family was proud to carry on the tradition of Pete's Service Center, which has provided quality service for European cars since 1955.
As the business at Pete's Service Center grew, their services expanded beyond just servicing modern European cars. "We always try to listen to our customers," said Grabovsky, "and they brought to our attention a huge need for storage and restoration."
Eric Grabovsky, Ilya's son and the company's general manager, added, "We started our restoration and service business on classic cars at the 49th and Penn location. But the business grew so much that we had to get a separate location."
And the idea of Pete's Classic Storage & Restoration was born. The first order of business was finding a location. They decided on the empty building at 2525 E. 56th St., site of the original Broad Ripple post office, then set about redesigning and refurbishing the structure to suit their needs; much of the work was handled personally by father and son.
"It was really cool to work with my dad, side by side, building this place and designing the way we wanted it," said Eric.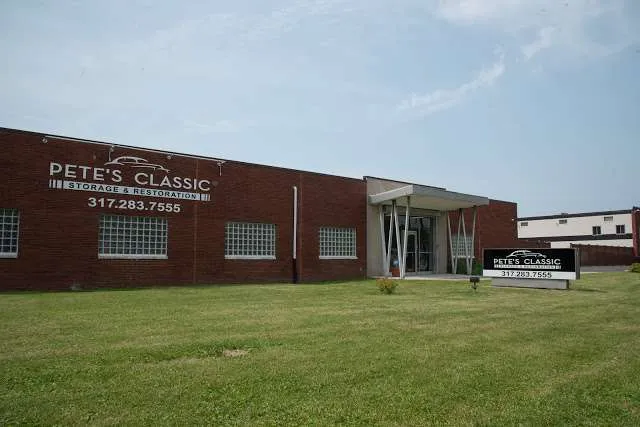 The facility's service and restoration area is separate from the storage bays, and the entire building is fully climate-controlled, a point Eric Grabovsky drove home with this analogy: "It's like putting your cigar on a table. The lack of humidity is going to make the cigar fall apart. The same thing will happen if an old gasket is allowed to dry up," he said.
Conversely, too much humidity will do damage as well. "When you open your garage in the summertime, you probably feel all the humidity and how hot it is. This is rusting the cars like crazy." Ilya Grabovsky explained that older, classic cars are especially vulnerable to the effects of humidity and rust. "Before 1975, the metal used on cars did not have any anti-corrosion protection," he said. "So it's very important that the car be kept in a climate-controlled environment."
Vehicles stored at Pete's Storage & Restoration are started at least once a month and are constantly monitored for any work that may be required. Eric prefers to have that work performed during the winter months. "That way the car is always ready for spring and summer," he said.
Cars currently at the property run the gamut from typical 1960s sports cars to truly breathtaking classic vehicles. A 1936 Packard is a particular favorite of Eric's. "It's one of the most beautiful cars I've ever seen in my life," he said. "I see lots of vehicles. I've judged at Carmel Automobilia for the past five years, so it's hard for me to see a car that's going to stop my breath. And that's one of the vehicles that does."
The technicians at Pete's have a combined 180 years of experience specializing in classic cars. The Grabovskys are seeing to it that that experience is passed on to the next generation of auto technicians.
"We have a special program right now with the motorsport engineering department at I.U.P.U.I.," said Eric, "to get young, smart, bright people interested in working on these cars." They see it not only as an internship program but also a mentoring program, something that Ilya Grabovsky feels especially strongly about. "When I came to this country, I was mentored by many people," he said. "That's why it's important that we have created this program."
Pete's Classic Storage & Restoration provides a full range of services for vintage automobiles from climate-controlled storage and simple oil changes to seat reupholstering, motor rebuild and complete vehicle overhaul and restoration. A full restoration of a classic car can take from six months to two years, but the process is a labor of love for the Grabovskys. "For us, it's the ability to preserve history," said Eric. "Those cars are history, and we are able to preserve them and bring them back to life."
Ilya echoed that sentiment. "This is what we enjoy. When a customer comes to pick up their vehicle and the vehicle starts, what we love to hear from the customer is, 'Wow! She's alive!'"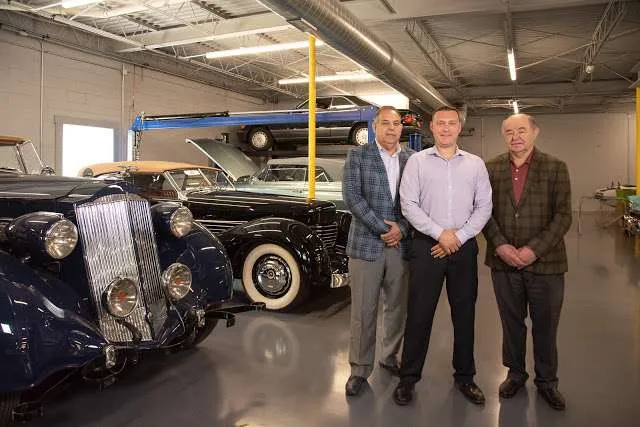 For classic car storage, visit Pete's Classic Storage & Restoration at 2525 E. 56th St.
For service on your newer European car, go to Pete's Service Center at 4902 N. Pennsylvania, specializing in European automotive repair since 1955.
Visit petesservicecenter.com or call (317) 283-7555.