Olp Family Medicine of Carmel
Writer // Janelle Morrison Photography // Laura Arick
Are you looking for better health care and a more personalized experience with your physician at an affordable rate? Have you heard about Direct Primary Care and are looking for a Direct Primary Care physician near you? Your search is over—Olp Family Medicine of Carmel is just right around the corner in the Carmel Arts and Design District.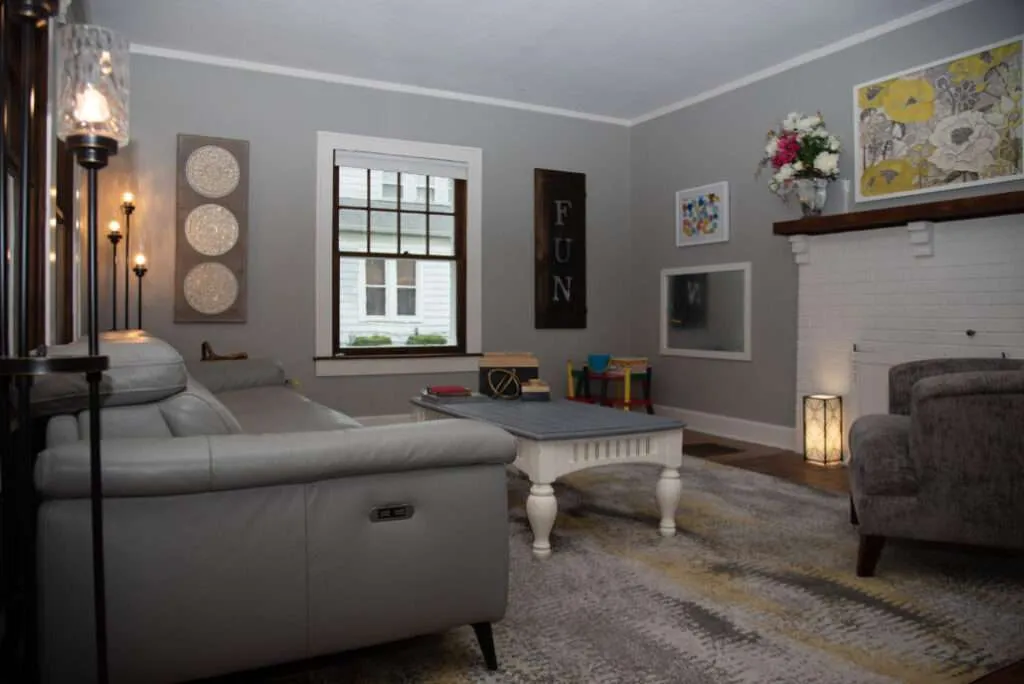 Dr. Ashlie Olp has been serving patients as a family practitioner for 15 years and opened her Direct Primary Care (DPC) practice in Carmel just over a year ago. She is a native of Carmel and graduate of Carmel High School. She currently resides in Carmel with her husband and their two young sons.
After graduating from Indiana University School of Medicine and completing her residency, Dr. Olp began practicing family medicine with the Hoosier Family Health group in 2002.
"I knew at a really young age that I wanted to be a doctor," Dr. Olp said. "I majored in biology at Purdue [University] and then went on to med school at IU. I wanted to go into family medicine for two reasons: I really like the long-term relationships with patients and continuing care is important to me. The second reason is that I feel it is important to take care of all the members and generations of a family, so I have multigenerational families from the grandparents to the grandchildren."
Dr. Olp openly shared her personal story on what made her leave the practice that she was with and start her own DPC practice.
"What actually drove me to this practice was my personal experience as a patient," she shared. "I have an odd diagnosis called external iliac artery endofibrosis, where a major artery in my pelvis that takes blood flow to my leg has scar tissue developing on the inside of it. I started having pain in my leg back in 2001 when I ran. Running is my favorite hobby and what I spend my free time doing. I started having all this pain in my leg, and so between 2001 and 2012, I saw 11 different doctors, all different specialties, trying to figure out the cause of my pain. During that time, I also had two surgeries that turned out to be unnecessary and was misdiagnosed, twice. One was by a world-renowned neurosurgeon at The Johns Hopkins Hospital."
Dr. Olp explained that she experienced what most patients experience when calling a doctor's office: Leaving messages most of the time and not speaking with a live person, only to have to wait a few days before receiving a call back for an appointment that would take another two to three weeks before actually seeing a doctor, with whom she spent an underwhelming 10 minutes.
"If the doctor couldn't figure me out [in those 10 minutes], I was out the door with no answers and was referred to one of the doctor's colleagues. I just got passed around from doctor to doctor. Meanwhile, I kept running but in severe pain. I did compete in the Carmel Marathon and was the first female winner of the inaugural year, but it was with this horrible pain in my leg."
Fast forward, Dr. Olp underwent major surgery at Johns Hopkins in hopes that it would fix her leg but to no avail.
"At that point, in 2012, I was in so much pain, and it had become difficult for me to walk," Dr. Olp said. "I decided to take matters into my own hands and ordered and scheduled my own tests—which I could only do because I'm a doctor. The radiologist called me that night and said you have a 100 percent scarred down iliac artery. You need to go to the ER; you're going to lose your leg. I had found the diagnosis myself and got myself to a surgeon, and he did a bypass graft, which is a major surgery, in September of 2012. I recovered from that surgery, and I could run for the first time in 12 years without any pain."
However, her road to recovery wasn't complete as a post-pregnancy graft clot in 2014 led to another surgery. In December of 2016, the graft clotted off again, spontaneously. After failed attempts to reach a live person at her new surgeon's office, on her third attempt she managed to speak to a live human, at which point she explained she needed surgery that very day or she would be at risk of having major complications or the potential loss of her leg.
"I had to push and be the 'squeaky wheel,' but I finally pushed my way into being admitted to the hospital within hours," Dr. Olp stated. "If I would've been any regular patient, I would've said to the receptionist, 'Thank you very much for getting me in within seven days, whereas I would've normally had to wait four weeks,' and I would've suffered major complications. It was already a super risky surgery."
She had five days after the operation to contemplate all that she had been through over the last decade with her diagnosis and surgeries.
"I had five days after that [for] convalescence," she said. "I thought about how our old practice was doing the same things to our patients. Nobody picked up our phones because we were too busy. We would return the calls as often as we could, but my schedule was always full at least two weeks out, and if you were a well patient, it was three months before you could get in. It is ridiculous. I decided that I couldn't keep doing that, and as I was literally being wheeled out of the hospital, I told my husband that I was quitting my job."
Dr. Olp left her old practice and spent several months researching Direct Primary Care and other alternatives, such as Concierge Practices. She spoke with several doctors who are doing similar things.
"I researched the market, looking for other ways to do family medicine," Dr. Olp explained. "I needed to solve three big problems: access, time and medical billing. Access to your doctor is a big problem. It doesn't make sense that I can call the guy who's going to cut my hair, but I can't call the person who's going to cut open my leg. You should be able to talk to your doctor, and you never can."
Dr. Olp continued, "I spoke with brilliant people all those years I was trying to get diagnosed. But nobody had any time, and I am convinced that if I had 45 minutes or an hour to sit down with somebody and go through my whole history and describe my symptoms, somebody along the line would've figured it out sooner."
She went on to acknowledge that medical billing is another big conundrum.
"You leave the hospital and have a seven-page bill," she explained. "You don't understand when you're in the hospital that they're charging you $45 for a dose of Tylenol. Everything is fee for service and itemized. It's the only industry where you don't know what you're paying for."
Dr. Olp was convinced there was a better way to practice family medicine, and DPC is the model she has subscribed to.
"I found the DPC model," she stated. "It's like a gym membership where you pay a monthly fee, and that gets you 24/7 access to the doctor and all of your primary care for free. I don't ever bill insurance. My patients who are 26 years and over pay $100 a month and then 25 years and younger pay $35."
Technology has played a big part in Dr. Olp's ability to treat her patients in real time, remotely, via telemedicine. Telemedicine is remote diagnosis and treatment of patients by means of telecommunications technology—in Dr. Olp's case, her smartphone and/or laptop.
"I have an app that my patients can text me on at any hour," Dr. Olp explained. "I had a woman whose daughter had a horrible sore throat and fever. The mom texted me at 6:30 a.m. with the symptoms, and I texted her back, asking her to take her temperature and take a picture of her daughter's tonsils. She did that, and it was obvious that it was strep throat. I texted the mom back, telling her that her daughter would need to be absent from school for 24 hours, generated her doctor's excuse for school and called in her medication. It was all done by 7 a.m., and nobody had to wait for the doctor's office to open and try to get in."
The average appointment with Dr. Olp is anywhere from 45 to 90 minutes long. Her DPC practice has solved the three problems of access, time and billing problems.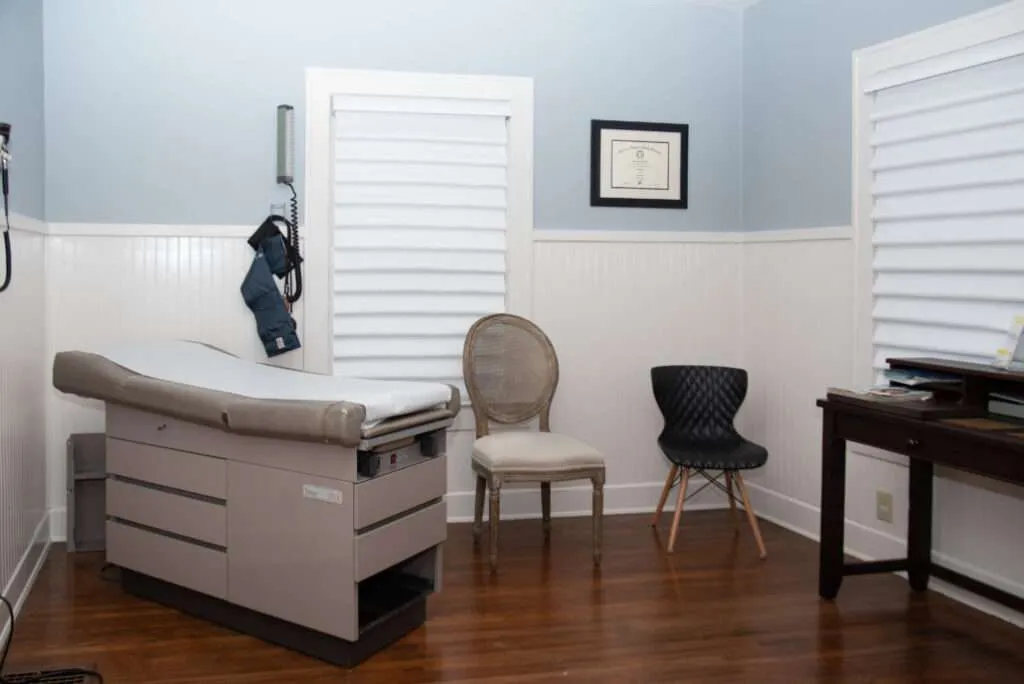 "I don't charge for anything that I can do within these four walls," she emphasized. "You literally get all of your primary care for your monthly fee. The majority of health issues can be taken care of here and chronically managed. I'm not an urgent care center. I want to do chronic disease management too."
Patients can get their blood draws and vaccines out of her office. While she is too small of an account to obtain infant and youth vaccinations, she can administer adolescent and adult vaccines, in addition to a slew of many other in-office procedures at no additional charge.
"It's easy to save money doing this, but the biggest way my patients save money is that almost everything can be taken care of as an outpatient, and if you do it as an outpatient versus going through an ER [emergency room], you save several thousand percent on prices. When you really understand how [DPC] works, you will understand how you will receive better health care and save money over the long run. It really comes down to what kind of relationship you [the patient] want with the health care system and your doctor."
The Difference Between Direct Primary Care and Concierge Medicine Models
In concierge medicine, there is an annual fee that can be paid in full or split up, but the contract is for the entire year. In DPC, members typically pay a monthly fee and may drop out of the program at any time.
In concierge medicine, the annual fee covers an in-depth comprehensive physical with screenings that go beyond what traditional insurance or a government program would support. In DPC, the membership fee generally covers unlimited patient visits.
Concierge medicine membership fees tend to be higher than DPC membership fees. DPC membership fees are usually priced on a sliding scale, where younger patients pay less than older patients.
Sometimes family rates are available. Most traditional concierge medicine physicians continue to accept insurance plans and government programs, and patient visits are billed in the traditional manner. In DPC, the doctor does not accept third-party reimbursements. The membership fees paid by the patients cover basic visits, and some services are charged separately.
Olp Family Medicine accepts patients as members no matter what insurance they have or do not have. They do not bill insurance. Because of this, to your insurance, this practice will be considered "out of network."
If you are interested in learning more about Dr. Olp and Olp Family Medicine of Carmel, visit their website at olpfamilymedicine.com or call their office at (317) 343-0611.