Motor District: Creating a Community for Car Enthusiasts and More
There is a new trend sweeping the nation – from coast to coast, Car Condominium Communities. These Garage Condominiums are space you own and customize – much more than just a place to house your car; they're a lifestyle that is being embraced by car aficionados of all sports, classic, racing, exotics, hot rods and well… collectible cars! Golfers have their country clubs and boaters have their yacht clubs, but until now, local car enthusiasts have not had a community of garages they own to gather regularly and share in their mutual love of cars.
With the recent announcement by local developers of the creation of Motor District, that is about to change. While Motor District "car condos" will provide a secure facility for individuals to store their cars, it is much more than merely a storage facility. Motor District is a lifestyle designed to offer car owners a unique space with an opportunity to be a part of a larger community, where they can socialize and share their passion for cars.
What Is Motor District?
Motor District, in its simplest terms, is a new car condo project that just began construction in Westfield near the corner of Highway 32 and Ditch Road. Although the car condo concept offered by Motor District has been successful in other areas of the country, it will be the first in the Indianapolis area. Motor District will be constructing buildings and offering for sale garage spaces including mezzanine quarters, instead of living spaces like most condos. Conversely, instead of offering one-, two- or three-bedroom condos, Motor District's condos come in four-, six- and eight-car sizes. Just like a housing condo, Motor District members will own their space and personalize and decorate their space to the level they prefer.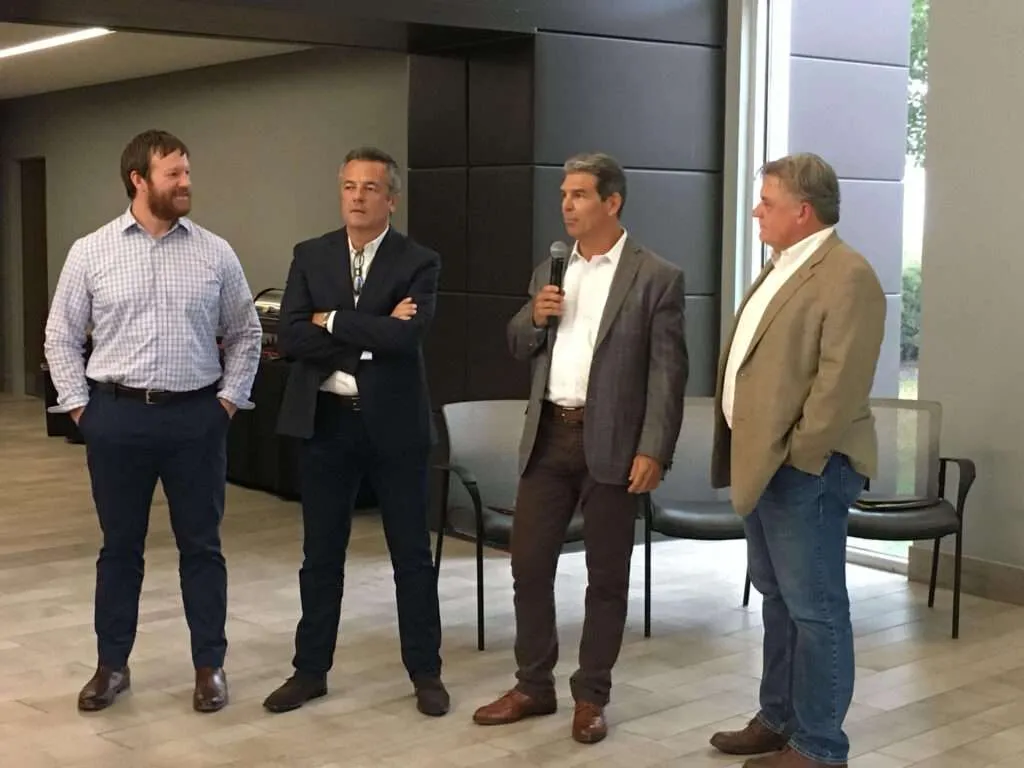 The People Developing Motor District
The principals behind Motor District—Jay Farmer, Eric Bachelart and Travis May—are all local business leaders with a shared passion for cars.
Jay Farmer grew up in the Indianapolis area and has loved cars his entire life. As a testament to Farmer's passion for cars, he has attended the Indy 500 for the past 50 years in addition to enjoying a number of high-performance sports cars. Having spent 30 years in public companies as a partner in a large management consulting firm and as a corporate executive, Farmer retired to pursue several interests in real estate projects. Designing and developing the "car condo" concept through the Motor District project seemed to be a natural extension combining his passion for cars with his interest in real estate development.
Eric Bachelart is someone whose passion for cars is unquestioned when you look at his resume. He has spent his entire life in auto racing, both as a driver and as a racing team owner. In 1991, Bachelart was the inaugural Indy Lights champion and went on to make several Indy 500 starts. Currently, he is the owner of Conquest Racing running multiple cars in the Ferrari Challenge series as well as prototypes. Farmer and Bachelart became friends through their mutual interest in racing and have been working on this concept over the last two years.
Travis May grew up in Noblesville and, admits that he was one of those kids growing up that always had a supercar poster on his wall. In addition to his love of cars, May also enjoys dirt bike racing and track days with his sports cars. He owns several racing dirt bikes and has hosted a GNCC race In Peru Indiana since 2017. May has been involved in real estate in the Indianapolis area for over 15 years. His company, William Tres Development and affiliates, do all phases of high quality commercial and residential development and construction. He is currently developing hundreds of acres in Westfield and around Indiana.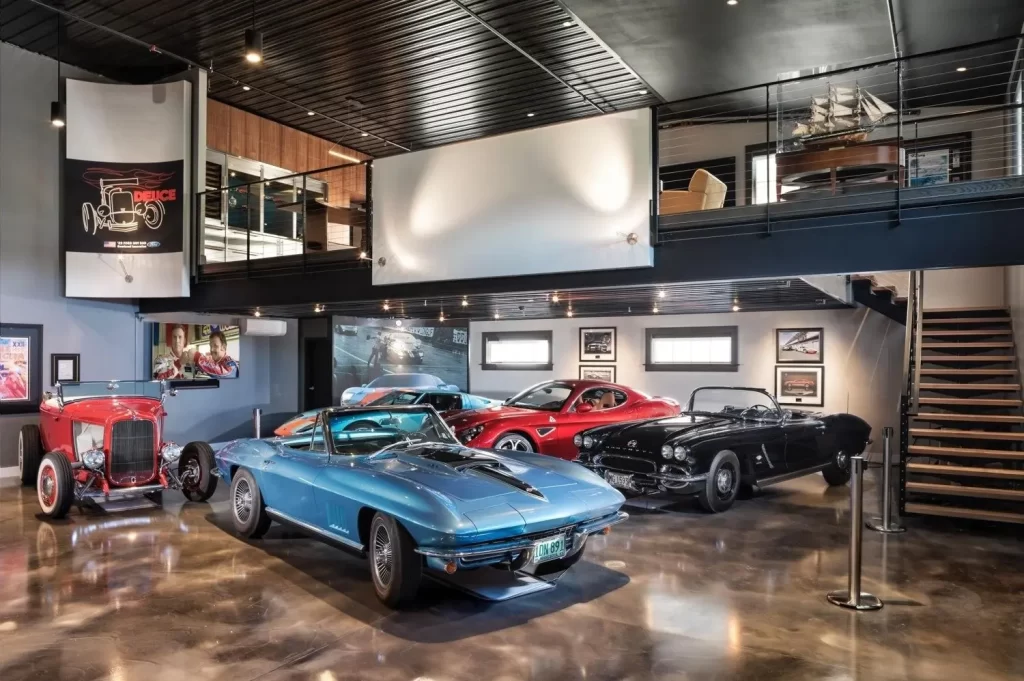 Seeking Guidance from the Best
As mentioned earlier, the car condo concept is not totally new, and there are several car condo developments around the U.S. of differing styles and levels of success. As the Motor District team scoured the country researching other existing developments, one in Minneapolis, called AutoMotorPlex, stood out as being incredibly successful and really attuned to the Motor District team's vision.
The AutoMotorPlex was created and developed by Bruno Silikowski. Shrewdly, Motor District has brought Silikowski on board as a consultant and to license his intellectual property.
Silikowski brings the knowledge and experience he has gained from developing not just one but two successful projects. Farmer commented with respect to the benefit of bringing Silikowski on board, "We contracted with the AutoMotorPlex in Minneapolis to utilize their designs and intellectual property, and that's really allowed us to go quickly and accelerate our progress on the project."
A Look at AutoMotorPlex as a Peek into Motor District's Future
Recently, we spoke with Silikowski about how the AutoMotorPlex has evolved over the years.
According to Silikowski, his idea behind AutoMotorPlex arose as a solution to a typical problem that other car owners experience. "I thought I was safe with the four-plus car garage, I mean, you could literally eat off the floors. It was awesome, but I quickly realized that I literally was all alone, and so I was enjoying it, but I was enjoying it by myself. It was one of these things that I could not find, so I ended up having to build it." That single problem turned into an initial car condo project of 15 acres and 146 units, and a subsequent project with 20 acres and 180 units.
Silikowski surprisingly reported, "So, what you'll find is that it's a place where it's morphed into the urban cabin for your family. Birthday parties happen for the kids, and it's where you celebrate your Thanksgiving dinner with your family. We already had this past year two baby showers take place within our client's garages. There's a thing we do—we jokingly call it a cave crawl—but it's a progressive dinner between the units, and we do this on a regular basis. It becomes a way for the members and their extended family and special friends to all gather." According to Silikowski, they even had one member have their kids' wedding at the campus.
We asked Silikowski about the resale of car condos at AutoMotorPlex. Silikowski responded, "What mostly ends up happening is people who bought wait for somebody next to them who organically need to leave, like they're moving out of state, experience a significant life change, those kinds of things. And they [existing owners] tend to buy most of the units that pop up for sale to expand their existing unit. Well, so here's the thing. What ends up happening when you buy a new toy, you tend to play with it for a while, and after you get tired of it, you put it aside Fascinating about this is just the opposite happens. Most people realize that they did not buy enough space for the things that they enjoy and expand." Astonishingly, Silikowski reports that they have over 200 people on a waiting list looking to buy in at the first facility.
The Perfect Solution for Many Baby Boomers
As baby boomers and other empty-nesters look to downsize, they are faced with the dilemma of wanting a smaller living area but would love to have access to additional storage space for the extra car, motorcycle, RV or wine collection. As many have found out at the AutoMotorPlex, the extra space that Motor District would provide can also be a great place for family and friends to get together and be surrounded by like-minded enthusiasts.
The Plan for Motor District
Groundwork at Motor District has begun with construction to begin in spring. According to Farmer, "We'll start with the first two buildings with the plan for 12 buildings total. The first two buildings will be 24 units and 120 units in the total complex. We'll keep adding two buildings at a time." In addition to the buildings, there will be a central plaza that will be used for car shows or other events.
Motor District to Offer Preconstruction Specials
Now is the time to contact Farmer and his team because they are offering some terrific preconstruction specials. In addition, if you buy now, Motor District can talk to you about any special changes you might want to incorporate into your unit before construction begins. To learn more, visit https://motor-district.com or call (317) 763-0167.