Marching to a Legacy of Excellence
January 2019
Writer // Janelle Morrison            Photography // Courtesy of CHS Marching Band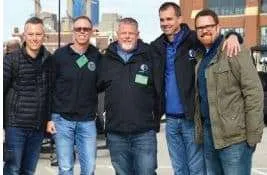 The Carmel High School (CHS) Marching Greyhounds' legacy is a nationally renowned and highly respected one. The Marching Greyhounds earned their third straight Bands of America National Championship title last fall under the direction of its Director of Bands Michael (Mike) Pote and Associate Directors Chris Kreke, Andy Cook and Kyle Young.
We sat down with Pote and Young to discuss how the program began under the vision and leadership of Pote's predecessor, Richard Saucedo, and how it has managed to continue to grow and succeed under the current directorship.
A visionary and internationally renowned freelance arranger and composer, Saucedo has released numerous marching band and choral arrangements as well as concert band and orchestral works that have been performed by middle and high school bands and college and university groups all over the world. He began teaching at CHS in 1983, bringing the Carmel Band program to new heights of success and growth before his retirement in 2013. The foundation on which he built the program is meticulously cared for by his mentees who worked alongside him, Pote, Kreke and Cook.
Young, who is going on his sixth year with CHS, was brought in as an associate director when Pote stepped into the role of Director of Bands but was raised on stories about Saucedo and the Marching Greyhounds in the band world.
"I grew up a fan of the Carmel Band program," Young said. "It was a well-known organization even then in the late '90s/early 2000s. It was a program that I looked up to and tried to emulate with the program that I was previously with in Mason, Ohio. I feel very lucky to be here [Carmel] and enjoy very much working with the team."
Pote credits Young's contributions and "young energy" for many of the program's improvements over the last few years.
"While we [the program] were certainly at a level of quality before Kyle came to the program, there are a lot of things that improved in the program as a direct result of Kyle's energy and skills," Pote said. "I was hired by Mr. Saucedo in 1993 but knew him long before I came here to work with him. Mr. Saucedo's first teaching job was in Mt. Vernon, Indiana. I was a freshman, and he was my first high school band director. He brought on as a college student, teaching in the summers and at band camps. When a position opened up at CHS in '93, he called me up and asked me to consider taking it."
Pote, Kreke and Cook all taught under Saucedo, and each has been with the CHS Band program for more than 20 years.
"When Mr. Saucedo retired, he certainly left us with a vehicle that was already well on its way," Pote emphasized. "It was a solid program in terms of what we do with marching and concert band, jazz ensembles, our chamber groups and solo performance opportunities. The program has expanded in the last five to six years, but it was already a well-oiled machine prior to that."
Pote and Young expressed that Saucedo left the next generation of directors with a well-ingrained philosophy that the concept of excellence is the goal for the program, not material gains like trophies and awards.
"The goal is for every kid in the band program to have a great experience," Pote said. "We are constantly looking to see if every kid feels like a part of the 'family.' Are they being encouraged to be as great as they can be in terms of everything they do? For instance, how they play their instrument is important, but we also look at how they interact with each other and how they interact with the parents who are involved and important to our program. Additionally, we look at how they interact with the school administration, which is also important to our program."
Both Pote and Young emphasized that the CHS administration and staff, along with the parents and community members, are key to the program's continued success.
"One of the reasons why we're able to do what we do here is because everything is supported by the administration, the parents and the community," Young said. "Everything at CHS operates at a high level, but everything is well-supported."
Pote attributes the directors', staff and students' strong work ethic and endless pursuit of achievement and improvement to Saucedo's legacy.
"It is our [the directors'] responsibility now," Pote said. "Mr. Saucedo built it, and three of us were there along the way helping to support it, but now, we are responsible for keeping the program moving forward and looking at what we can be doing better and what more we can be offering the kids."
Pote stressed that the program's success takes a massive team effort. The marching band has four directors and up to 30 individuals who are involved in the instructional aspect of the marching band alone.
The CHS Band program has close to 600 students involved today compared to the 190 in 1993 when Pote came to CHS. In 1993, the program had 180 students in the marching band – today, there are 310. The program has also grown its jazz bands from one-and-a-half to five jazz ensembles, from two concert bands to seven and from having no winter guard to three winter guards.
"I always say that size is our strength, not our weakness," Pote said. "The size of the school allows us to offer things to students that a smaller school can't. We have three of the best middle school band programs in the country feeding one high school, and I think that's why we have such a high level of interest in our program."
Young added, "We don't audition or cut students in the marching band, and we don't have alternates."
Regardless of the size of the program, Pote stressed that between the four directors, hopefully the students know that they have someone that they can talk to and ask for help, whether its band-related or just for general guidance and/or assistance.
"There are 600 kids in band here, and it's a 600-piece puzzle," Pote analogized. "If one of them isn't there, we never get to see the whole picture together. The four of us work to have a connection with the kids. One of our goals is to make sure that not only are the kids playing well but that we are creating those interpersonal relationships and taking care of the kids."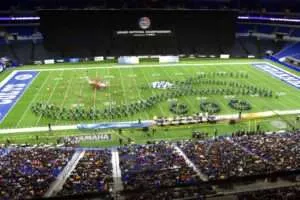 When asked where they would like to see the program in another 20-30 years, they each emphasized that they hope the program continues to strive to be the best that it can be. "Excellence was one of the things that Mr. Saucedo brought to the program," Pote said. "He taught us to always do everything as
well as we can. I'd like to think that's what we will continue to do 20-30 years from now and still be looking for what comes next."
Young added, "Saucedo is a once in a generation teacher with a unique skill set. I think we are all trying to emulate him, and we want to make him proud of what we are doing. He's still involved and writes the marching band music and comes back to work with the groups."
When asked why he thought it was still important for his predecessor to visit and assist his former program, Pote simply replied, "This is still his baby."