Janna Hymes
June 2017
Writer / Janelle Morrison Photography / Kim Kiely
Officially beginning her duties this July for the 2017-18 season, Janna Hymes' debut performance as music director and conductor will take  place October 14 at The Center for the Performing Arts.
Hymes, a resident of Maine, has served as the music director for the Williamsburg Symphony Orchestra of Virginia since 2004 and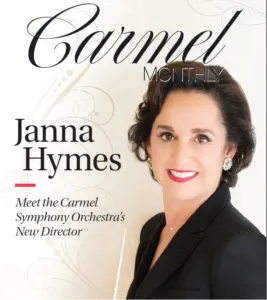 founded the Maine Pro Musica Orchestra in 2008. Hymes is no stranger to Indiana's arts scene. She was the associate conductor of the Indianapolis Symphony Orchestra early in her career.
The Carmel Symphony Orchestra (CSO) held a nationwide search for the position. Hymes was selected as one of the three finalists from more than 130 applicants by the CSO Music Director Search Committee, comprised of four CSO musicians, four board members and three community stakeholders.
"We are particularly proud that our orchestra members chose Janna Hymes as their new conductor and could not be more pleased with the selection," said Luci Snyder, CSO board member and chair of the search committee.
"We are absolutely delighted to welcome Maestro Hymes to our organization," added CSO President and CEO Alan Davis added. "The caliber of talent and dedication became increasingly evident through the selection process. I can think of no one better to lead the CSO into new heights of artistic excellence."
Hymes was raised in New York City and exposed to the arts throughout her upbringing by a supportive family that nurtured her enthusiasm for studying music. She found inspiration by playing the cello in high school and by attending the ballet, opera and symphony. Later in college, Hymes studied under such prominent conductors as Leonard Bernstein and Gunther Schuller.
"I studied under Gunther Schuller who was a very strong character and brilliant composer," Hymes said. "He taught me how to analyze music more deeply. He taught me to analyze, 'What did Beethoven want? What did Mozart, Brahms, Mendelssohn and Wagner want?' He was simply fantastic.
"Working with Leonard Bernstein absolutely changed my life. During one of our conducting classes, each of us took numbers to conduct in front of our guest conductor [Bernstein], and I selected number seven. The first six guys went, and then it was my turn to conduct. I got up and begin to conduct, and I'll never forget this: He didn't stop me. I just kept on conducting, and then it occurred to me that he had not stopped me. That worried me because he had stopped everybody else before me.
"I got to the end, and he was sitting 10 feet in front of me. He came up, took my head in his hands and kissed me right on the lips. He said, 'You have what it takes to be a great conductor.' My legs were shaking, and I just sat down in awe. The next person went up, and I continued to sit there on cloud nine. He continued to be incredibly supportive of me, and he was a great inspiration to me."
Her home state of Maine has also been a source of inspiration for Hymes over the years. The natural landscape of the seaside and hikes along the mountainous backdrops have provided a peaceful sanctuary for Hymes to reflect and create.
When Hymes learned about the open position in Carmel from a posting list that she subscribes to, she took a look at the organization, the venue and the community. She is familiar with the area due to her previous work with the ISO.
"When I looked into the post and filled out the application, it felt like a natural transition for me," Hymes recalled. "I saw this as a new
opportunity for me at this point in my career. I thought that if the CSO was interested in taking their symphony to another level, it would be a great fit for me. I completed an in-depth questionnaire and had a Skype interview with the selection committee. Shortly after, I was invited to come to Carmel and conduct. The selection process moved rather quickly; the process can sometimes last up to two years."
Hymes described her visit to Carmel as being an incredible week of meetings and interactions with members of the community, the CSO and with Mayor Brainard.
"I felt that everyone was very supportive and optimistic," Hymes expressed. "The minute that I walked into the theater, it was an unexpected delight. It is absolutely outstanding and one of the most beautiful theaters that I've ever seen. To call this my new home is a great honor for me."
Hymes described working with the orchestra as a fantastic experience as they were responsive to working with her and made her feel welcome. She felt that she was "in line" with everybody.
When questioned if she would be relocating to Indiana immediately, she explained, "I have looked at the CSO's schedule, and there's just a few adjustments that I need to make on my end. I chose to live in Maine because I wanted to raise my two children here. They are now in college, so that is why I was looking for the job post. It is the right time with them being in college for me to get back to the busy schedule that I had before they were born. I've conducted over the years, but I wanted to be home more than not for them.
"I will be commuting back and forth during this first year and will look at what will be best long-term after this year. I will be spending a good amount of time in Carmel to do the job well. One has to
be present to do the job well, and I will be incredibly busy during the weeks that I am in Carmel. There will be several meetings, engagements and planning sessions. I am taking this position very seriously and consider it a great honor."
Hymes will oversee the planning for the following season among several other duties and is excited to hit the ground running. She hopes to enthrall the patrons and donors while building upon the CSO's existing status as being a remarkable symphony orchestra.
"For me this past year, something has changed," she concluded. "Perhaps I feel that what I do is more important at this point in my life. I feel that people come to concerts to hear music and to experience something different from what they have throughout the day. They come to support their local orchestras. Music is here, and then it is gone. People hear it, and then it is gone. They have nothing tangible to take away; only what is in their hearts and memories. For me, what is most important is that whatever we are trying to express through the music, the audience is feeling it and is moved in some way. It is a tall order, but if the musicians are inspired and are playing their best, then that will happen."
For more information on the Carmel Symphony Orchestra and for season ticket subscriptions, visit carmelsymphony.org.