Henry Mestetsky:
March 2019
Writer // Janelle Morrison                 Photography // Laura Arick
The American Dream is the belief that anyone can attain their version of success in a society where advancement and purpose are possible for everyone, regardless of where they are born and what class they were born into. Henry Mestetsky is living his American Dream right here in Carmel, Indiana.
Mestetsky was born in Kiev, Ukraine, and as a young boy, he would look out from the seventh-floor window from the 10-story building that he lived in with his family. Right outside of his building, there was a bus, trolley and subway station that he used to traverse the streets of Kiev. Mestetsky's passion for learning about how cities evolve and function sparked at a young age. Unbeknownst to a young Mestetsky, his journey would lead him to the United States in 1994, to Indiana, and eventually to Carmel, where he is leaving his handprints on the evolving city as the Executive Director of the Carmel Redevelopment Commission.
Mestetsky's work ethic comes from watching his parents work to create a better life for him and his brother. Mestetsky's family moved to Carmel after he graduated from Pike High School and started IUPUI. He lived at home, so he could graduate without student debt. He remembers driving down pre-roundabout Shelborne Road every day and watching it transform. While at IUPUI, Mestetsky interned at Duke Realty's financial analysis, tax, and legal departments, getting a broad experience. "While I was at Duke [Realty], I realized that many of the executives and higher-ups had law degrees," he said. "I decided on law school because I wanted to build buildings and be one of the decision-makers."
Mestetsky would go on to graduate from IU's Kelley School of Business – with a dual major in accounting and finance in three years – and start classes at the IU Maurer School of Law two weeks after the end of his last summer class.
In law school, Mestetsky spent summers in Paris and Washington D.C. As the Great Recession hit, he shifted from real estate to complex corporate bankruptcy, including clerking for a bankruptcy trustee. He was back in Carmel after graduation. "I lived with my parents while preparing for the bar exam too," Mestetsky said. "It helps to have free food in the fridge when studying for that."
Mestetsky joined Katz and Korin PC shortly after passing the bar. "I was very lucky to have some really good mentors that have built this foundation of law for me in a lot of different areas," Mestetsky shared. "We did complex bankruptcy work, which included both transactional work and litigation in state and federal courts. Reorganizing a business towards profitability is where I was trained to have both a global perspective and an eye for detail. It fits with what I do now, because it takes both to make complicated real estate projects successful."
In his personal life, Mestetsky was building relationships within his community while building his career. "I bought my first house around College Avenue and Fall Creek Boulevard and started serving on the board of King Park Development Corporation, a non-profit focused on improving the area. As outside counsel, I helped Executive Director Steven Meyer start the Build Fund, a non-profit lending to businesses that created jobs in economically-depressed areas. I did all the legal work for this program. I tell young attorneys today that they should not join boards just to pad the resume. They need to find something that they like and are passionate about, and really participate. They may or may not get a client from it, but potential legal work can't be the reason why they're volunteering. For me, I gained an understanding of community development because of my volunteer work."
In 2015, Mestetsky accepted a position at Bingham Greenebaum Doll, LLP where he served as an attorney focused on corporate, real estate, lending and economic development matters. All within two months, he had started a new job, bought a home in Carmel, and welcomed a daughter into the world.
Mestetsky's dreams were coming true, and the doors of opportunity were opening as Mestetsky's hard work was paying off in big ways. His next career move would stem from an early law school project that prompted a phone call with Mayor Jim Brainard whom he needed as a source for his research."Back in law school, I took a class called Law and Architecture," Mestetsky recalled. "It focused on what architecture can do that sometimes the law can't. I wrote about the Village of WestClay and how its architecture and design create an environment that changes people's behaviors. I needed a source, so I called the mayor's office out of the blue."
The Mayor returned his call, and the two spoke for nearly an hour. Fast forward to 2015, Mestetsky, a Carmel resident who wants to get involved with his community, emails Mayor Brainard, this time asking how he could get more involved. This fateful email set a new course for Mestetsky, fulfilling his dream of one day building cities.
"The mayor actually remembered me from a decade ago," Mestetsky said. "I told him that I had moved to Carmel and had chosen the city to raise my family in, that I am a finance/real estate attorney and I wanted to get involved. I told him that I was passionate about Carmel and its redevelopment. We met for lunch, and he took me on a tour of the Palladium."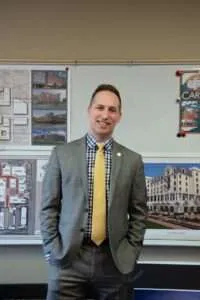 Not long after, Mestetsky was appointed commissioner on the Carmel Redevelopment Commission in 2016 and elected as its Secretary. In 2017, he was named the Executive Director of the Commission. He has spent his first year as director overseeing projects throughout the central core, including around the Proscenium, Midtown, City Center, and the Arts and Design District. "A lot of credit goes to my predecessors and the staff, and it doesn't hurt to have so much private investment flowing into Carmel," said Mestetsky.
"I grew up playing Sim City, probably more hours than I should've," Mestetsky admitted. "I was obsessed with that game for many years. I love building cities. My favorite trips are those where I am walking around exploring the world's greatest cities. I've explored around three dozen so far. I want to see and feel the city. That's what I did as a little kid, and I get to do that here in the center of Carmel. The inspiration that the Mayor draws from European cities, I had that in me before I ever had a notion that this would one day be my job."
Mestetsky appreciates the diversity of Carmel as well as its architecture.
"I'm from the Russian-speaking community, and I take my daughter to a Russian-speaking language and development classes at CHS on Sundays," he shared. "We're in one hallway, and I believe the Chinese and Indian communities are in adjacent hallways. Carmel celebrates different nationalities and is diverse because of that welcoming culture. Carmel draws on the strength of people from other countries who come here and become part of its fabric. I am an example of that."