THE HENKES A FAMILY OF DEVELOPMENT
Writer / Stephanie Carlson Miller
Contributor / Adriana Rich
Lush rolling terrain peppered with bountiful woodlands and trickling creeks that weave through spacious farmlands, have been passed down through eight generations, naturally creating a place to preserve history, discover futures and create traditions. Looking beyond the pastures of these Westfield family farms, Steve Henke, a Carmel attorney and developer, envisioned a residential community that "embraces and preserves" history and the gifts provided by Mother Nature for future generations. After years of buying properties and formulating plans, Chatham Hills was born. "As farms became available we purchased them. We recognize that many of the farms are owned by families whose ancestors lived and worked the land," Steve says. "We respect their heritage and we are maintaining  the integrity of these family stories." Incidentally, Steve invited his daughter, Betsy Garfield, and son, Brad Henke, to join his team in developing 800-acre property – a choice that perpetuates his own family story.
"Dad is the best mentor I have ever worked with," Betsy affirms, flashing a smile at her father. "He has handed me a lot of responsibility and that has led to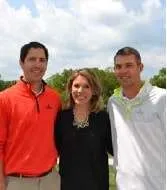 exposure in so many areas I would not have had the opportunity to experience otherwise. He has a high level of expectation for me and my brother." Betsy attended Carmel High School and graduated from Indiana University's Kelley School of Business with the notable achievement of being student body president. Upon graduation, she worked as an investment banker at JPMorgan Chase in Chicago where her clients included homebuilders. Two years later, she returned to Carmel armed with experience and enthusiasm, to join her father's firm, Henke Development Group.
According to Brad, who is two years younger, "My sister and father were already working together and when I finished college I knew it would be an amazing opportunity to work with them." Holding a degree from IU's Kelley School of Business and competitive skills gained playing baseball for the Hoosiers, he stepped up to the plate bringing his best friend and classmate, Doug Fleenor, along to solidify the team. Brad says that he doesn't believe in job titles and that together with Doug and Betsy "they are all equal parts to the whole and one is just as important as the other."
When the siblings were youngsters, Steve took them with him when he looked at properties, visited job sites and employed them during the summer months. "I never pushed the kids, but did give them a variety of jobs working with the organization, tossing them bits and pieces of what it takes to run a business." Steve wanted his children to develop a good sense of self and appreciate their talents, working with him was an extra bonus.
He recalls teaching Betsy to parallel park at The Bridgewater Club, a country club community he developed in Westfield on the southwest corner of Carey Road and 161st Street, and turning over a big responsibility for her to handle on her own. "Betsy designed, developed and built the playground at Bridgewater.
And he chuckles at the memory of Brad cleaning debris out of a pond on the golf course at Bridgewater. "His boss was the maintenance director so Brad had a variety of jobs like, cleaning sump pumps, painting the basement, cleaning up debris. "Steve adds, "Brad even worked in the kitchen making salads."
The trio wear many hats. While Betsy is far more involved in the financial aspect and implementing creative marketing campaigns, Brad is very sales oriented. He takes care of customers interested in the home plots and with the commercial properties. But all agree, there is a lot of responsibility that overlaps and they have a good mix of compatible skill sets, strengths and abilities. Akin to Frick and Frack, Betsy and Brad have found respect for each other, like spending time together outside of the office and enjoy their successes together.
Growing up the small town of Holland, population 500, in southern Indiana, Steve never dreamed that he would be creating special places that families would call home and offering peaceful, amenity-filled lifestyles. As a young lawyer, his firm grew quickly and he needed more space. He purchased land from the owner of the Carmel Racquet Club along Carmel Drive where he developed and build his first commercial property. Following that initial experience, he moved on to a few small residential and commercial developments while still working as a corporate lawyer.
"Back then, I started looking for properties that would be prime for development in 3-5 years. During lunch time, I would grab a sandwich and sit at an intersection making check marks to count the traffic. I would check the same place a year later and try to anticipate growth and trends," he explains.
That perseverance, research and patience paid off. Henke Development Group has been on the cutting edge of cultivating and establishing premiere communities in Hamilton County over the last decade. The firm provides services that include the "acquisition and disposition of real estate, capital formation, zoning and municipal procedures, operations, project management, turnaround while maximizing clients' value in their property."
Most recently, Henke played a key role in the development of Grand Park, a 400-acre sports campus located in the northwest quadrant of SR-32 and US-31 in Westfield.
Adjacent to the sports complex, Grand Park Village is in the development and design phase with plans to offer commercial space, retail shops, waterfront dining and entertainment along a east-coast inspired boardwalk.
Brad is the main contact for those seeking space in the village and he works directly with families interested in home sites.
"Being able to show people exactly where their plot is located, helping them envision where everything is going to stand, then walking through the purchase process is the best part of my job," he says.
Given the fact that the 2016 Builders Association of Greater Indianapolis Home a Rama takes place at Chatham Hills in September, he will have the opportunity to show many families to their new home sites. Thousands of people will attend to get ideas for their new builds or remodels by visiting 11 custom homes that feature the latest trends in indoor and outdoor living. In addition, the Henke family will have the chance to share their innovative vision, appealing Pete-Dye designed golf course, unique lifestyle amenities and enchanting setting with the public in a way that showcases what they have to offer at Chatham Hills.
"The upgrading of US-31 has opened the door for us to create this high-quality development," Henke says. "Westfield is now closer to Indianapolis time-wise. Residents can drive down Tomlinson, merge onto US-31 and drive to the airport without a stoplight. Not to mention, the Monon Trail is in development and will be brought through the community so people can jump on their bikes and ride to Carmel or all of the way to downtown Indianapolis."
"I enjoy talking to people and finding out what they want, and we have created amenities that appeal to everyone, young and old." Betsy describes some of those activities: "pickleball, walking trails, swimming pool, fitness center and of course, golf," She laughs when she talks about her 19-month old, Jack being the first to walk on the seventh green on the golf course. "He is so excited. This is truly a family affair." Even wife and mother, Kathy, is active
in the business coordinating events and volunteering for whatever is needed.
"We work hard. We have passion. We have humility and we have integrity," Steve smiles fondly when he says, "It is an honor to work alongside my children. Both are very good at taking on responsibility and eager to learn. And, I get to see them all of the time." Steve firmly believes in family first and has taken steps to preserve the integrity of those families who called these farmlands home before him. Thus, small pieces of history are left in place such as an original fire pit nestled just along the tree line, an old milk barn sitting just outside the welcome center and the stately Lindley house built on the property in the 1800's, which was first brick home in the Washington Township. Historically, there is evidence that the home was a stop on the Underground Railroad and family friend and famous poet James Whitcomb Riley, recited stories to children by the fireside.
According to Brad, when Steve researched the Lindley's heritage, he found that the family originated from Chatham, New Jersey. Hence the name Chatham Hills – the past preserved, nature protected and future family history in the making as the Henke team carves their legacy into Mother Nature's pastures.