Gavin Goode:
Gavin Goode: Creating Art for Good Causes
Writer // Janelle Morrison Photography // Marty Moran and submitted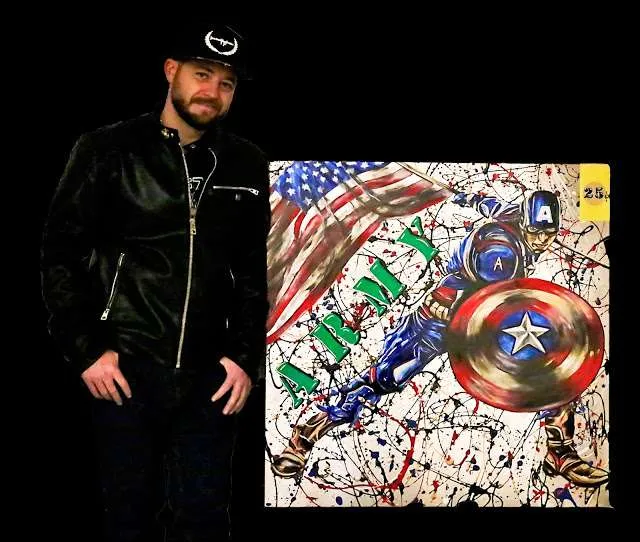 We first introduced you to Carmel's own Gavin Goode in our September 2017 issue. In that interview, we learned about Goode's military service in the U.S. Marine Corps and his transition from military life to acting as a feature film actor with a few of Hollywood's elite, such as Orlando Bloom, Joaquin Phoenix, George Clooney, Matt Damon, Ice Cube, Samuel L. Jackson and Sylvester Stallone.
In addition to his film work, Goode is a talented artist whose niche in painted steel has earned him accolades and credibility. His work has also raised significant amounts of money for local and national charities.
Here in Carmel, Goode's artwork can be viewed in many local restaurants and breweries. We caught up with Goode after learning he had been commissioned by the Chimney Safety Institute of America (CSIA), a 501(c)(3) located in Plainfield, and one of its executive board members and Carmel resident Darin Bibeau. Bibeau is also a military veteran, formerly with the USCG Deployable Special Forces Team 401.
Bibeau first commissioned Goode to paint a "live" piece four years ago for CSIA's annual auction. After achieving a significant amount of money from Goode's piece in that auction, Bibeau and his fellow board members continued to bring Goode to their events to raise money for a variety of projects. Each year, Goode's work sells for record-breaking amounts. He has painted "live" for more than 25 events over the last three years, and demand is increasing for his work, as are the "sold for" prices at auctions.
Though Goode is "commissioned" by CSIA to do these pieces, he donates the majority of his time and talent for the purpose of building up the programs that CSIA is fundraising for at these events, which are hosted throughout the nation. The causes that Goode helps to support with his talent are for programs to help veterans find work who are coping with PTSD and for Sweep Away Cancer, a 501(c)(3) organization co-founded by Bibeau. Its purpose is to raise awareness and funds for breast cancer research by garnering support from within the chimney sweeping industry.
Last month, Goode attended the National Chimney Sweep Guild's 2019 Convention in Norfolk, Virginia. Naval Station Norfolk is the world's largest naval base. Goode was commissioned by CSIA and Bibeau to create a piece or pieces of art that would tie into the convention's theme of superheroes.
Goode decided to represent all five of the military's branches—Army, Marine Corps, Navy, Air Force and Coast Guard—and pair up each branch with a popular American comic book superhero.
"The Chimney Sweeps wanted to do a superhero theme this year," Goode said. "They choose a different theme every year. My first piece was my interpretation of Captain America representing the Army, and the project just grew from there. As a veteran, I believe in raising money and awareness for veterans and any legitimate organization. I can only afford to do this full time for a year. I would do this [painting for auctions] full time if it could pay my bills."
All the proceeds from this year's auction, held at Norfolk, are going toward the construction of a trade school that will break ground this June in Plainfield, Indiana, where CSIA is headquartered.
The starting bid for all five of Goode's superhero series was $10,000. They sold at the auction for $18,500, which was applied to the entire event's total—a record-breaking $60,000. Goode was honored with a standing ovation from the audience at the banquet and was informed that his name would be immortalized on a brick that would be placed on the new trade school's foundation.
Gavin said with genuine humility, "I didn't expect that kind of welcome or standing ovation."
His friend and fellow veteran, Bibeau, added, "Gavin's talent brings in money, and that helps to solve the issue of funding [projects and programs]. We [CSIA] commission Gavin, but he volunteers most of the real effort. We were both in the military and understand what it takes to transition from military life to the civilian world. We stand together when it comes to raising money and giving back. My goal is to assist people from the military and, with their skills that they have, transition them into the civilian world so that we're not leaving anyone behind."
Both Bibeau and Goode are working on a committee that focuses its efforts on placing men and women of the military in jobs that match their skill sets and get them to a point where they are working and living with purpose as members of their respective communities.
Next on deck, Goode is working on a project for the Leukemia & Lymphoma Society's Man & Woman of the Year Grand Finale Gala on May 18.
Goode shared the complex nature of painting on stainless steel and why it makes his pieces even more unique than some of the subjects and themes that he paints.
"Stainless steel is impossible to paint on, which is why I paint on it," he said. "The surface is incredibly difficult to work on, but I've figured it out and found my niche. Most pieces range from 6 to 8 feet long and 4 feet wide, are noncorrosive stainless steel with wood subframes and are lit with LEDs. Every piece I do is done traditionally by hand—no airbrushing whatsoever."
Other recent pieces by Goode currently circulating the local art scene are a portrait of rock legend Jimi Hendrix that Goode was commissioned to do by the Carmel PorchFest committee (not the City of Carmel) and one from a new series he's working on that depicts singer-songwriter Johnny Cash alongside the late rap icon Eazy-E.
"It's a new series I'm working, 'Worlds Collide,'" Goode shared. "It's people and things that don't necessarily go together but do. Cash and Eazy had a lot more in common than people think. They both wore black and were outlaws and rebels of their genres. Neither of them did anything that they didn't want to do."
When asked why he chooses to remain in Carmel with his "better half" Tawni Gray when he could showcase his talent anywhere in the U.S., he replied, "Carmel is beautiful and has significantly less crime than other cities in which I've lived. I'm close to all the major Midwest cities and can easily fly out to the coasts—I do it all the time."
Follow Goode's latest projects and work on his Gavin L Goode Facebook page.