Dr. Harrison Hines: CHS Alumnus Named White House Fellow
November 2022
This month, we are pleased to feature Dr. Harrison Hines on our cover. Dr. Hines is a 2008 Carmel High School graduate who was recently named a 2022–2023 White House Fellow. Hines was one of 15 early-to-mid-career professionals selected to participate in the one-year program out of thousands of applicants. Hines' professional background in theology and medicine is what placed him at the White House Domestic Policy Council.
We spoke with Dr. Hines about the work he hopes to accomplish in his role as a White House Fellow, the purpose of the council that he has been appointed to and what he hopes to take away from the experiences he has over the course of the year. Dr. Hines also shared how his public-school education at CHS prepared him for what he has already accomplished in his professional life, as well as a few of his treasured memories and experiences while living in Carmel, Indiana.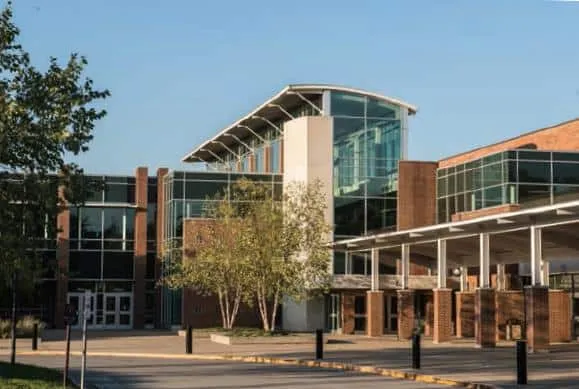 Building a Solid Foundation for the Future
Although he is a resident of Washington, D.C., Dr. Hines remains a steadfast fan of his hometown: Carmel. He reflected back on his time as a student at CHS and expressed his gratitude for the time he spent there.
"I love how welcoming people in Carmel are," Dr. Hines said. "Though I haven't lived there in over 14 years, I carry that sensibility with me and try to make everyone I encounter feel welcome, valued and loved. I am incredibly grateful for my time at [CHS], and I loved it. I participated in a variety of activities: tennis, concert and jazz band, student senate, etc. Tennis dominated much of my life growing up in Carmel. I played in tournaments on the weekends, on the CHS freshman and varsity teams, and taught tennis to kids in the summer. Our tennis team coaches, Coach Bostic and Coach Jones, were forces in my life. They taught me to believe in myself, not just because I thought I could achieve but because I would not have to do it alone. I have kept lightly in touch with them over the years and continue to be inspired by their dedication to me and my teammates."
Dr. Hines continued, "One of the most salient lessons my teachers and classmates at CHS taught me was how to be a lifelong learner. I took a Spanish class with an excellent teacher who wrote his own educational songs on guitar and endeavored every day to pass his excitement for Spanish on to his students. He was constantly experimenting with his pedagogical technique because he wanted every day to be a better teacher than he was the day before. About halfway through the year, he observed some students were struggling and clearly had questions about the material but did not ask those questions in class. To foster shared learning and responsibility, he rearranged the seating chart so that the students who were excelling were paired with students who needed some assistance. He encouraged quiet side conversations in class between pairs so that students could ask one another what a word meant or the correct tense to use on a worksheet. That teacher, though an expert in his discipline, was trying to improve his teaching and learn a new way to do class. I think on my time in that class often. As a physician and policy advocate, being a lifelong learner is an indispensable ingredient for sustainable and fulfilling career."
When asked at what point Dr. Hines began to realize the direction he wanted to go after graduating from CHS, he replied, "I took 2 years of chemistry with Ms. Deborah Haire at CHS and fell in love with science — its simplicity, is ambition, its limitations and the opportunity to learn more. I knew then I wanted to major in science in college. The decisions to go to medical school, seminary, and engage in policy did not happen until later in my career."
Following his passions, Dr. Hines attended Duke University as a Robertson Scholar and majored in Chemistry and Religion. Dr. Hines continued his educational and career pursuits with an M.D. from Stanford University and earned a master's degree in Theological Studies from Duke Divinity School.
"I was interested to several schools with attractive science programs, but Duke awarded me a Robertson Scholarship," Dr. Hines explained. "The Robertson is a 4-year, full ride scholarship to either Duke or the University of North Carolina, Chapel Hill, and is the nation's premier leadership development program for undergrads. I felt incredibly blessed to be selected for this program and thought the opportunity was too good to pass. My decision to major in Religion in addition to Chemistry came after taking a class in church history as a freshman. In high school, I disliked history. However, Church History was my favorite class during freshman year and got me interested in learning more about the history of Christianity and other religious traditions. That major was my impetus to eventually attend seminary."
Making an Impact as a White House Fellow
A series of life choices would lead a now married Dr. Hines to Sacramento, California, where an introduction to then–Assembly member Shirley Weber would spark Hines' interest in policy making and a desire to participate in the law-making process.
"My wife was a resident at UC Davis in Sacramento at the time," Dr. Hines recalled. "As we had been living apart for a few years already, I decided to spend the last several months of medical school living with her in Sacramento. Studying bioethics in seminary piqued my interest in policy making as an expression of our social moral reasoning, so I wanted to find a way to work in the state legislature and participate in the law-making process. A friend introduced me to a staffer in then–Assembly member Weber's office, and they eventually took me on as an intern. I answered phone calls, managed office mail and sat in on meetings when I could. As I learned more about the office and legislature, I was given increasing responsibility: staffing the member on a committee, advising her on bills and championing two bills myself. I am forever grateful that Dr. Weber and her staff gave me that opportunity, because that job excited me about civil service as a potential part of my career."
Upon developing an interest in a variety of policy issues in areas ranging from healthcare administration to education to immigration and wanting to make a broader impact — specifically in the area of public health — Dr. Hines applied to the White House Fellows Program.
"Envisioned by John Gardner and enacted by a 1964 executive order by President Johnson, the White House Fellows program offers emerging leaders with a dedication to service an opportunity to work at the highest levels of the federal government," Dr. Hines said. "As a neurologist with a passion for advocacy and policy development, this program is an unparalleled gift. I view my selection as a White House Fellow as a blessing meant for me to give back to my community and to our country, both of which have invested so much in me."
Dr. Hines shared the purpose of the White House Domestic Policy Council and what he hopes to accomplish during his times on the DPC.
"The DPC drives the development and implementation of the President's domestic policy agenda in service to the American people," Dr. Hines stated. "One recent example of work done by the DPC was organizing the White House Conference on Hunger, Nutrition, and Health on September 28, 2022. The conference brought together Americans from across the country to discuss how we can end hunger, increase healthy eating and increase physical activity by 2030. One of my roles was serving on a team garnering more than $8 billion in commitments from organizations outside the federal government in the Conference's call to action. Throughout my time working at the DPC, I hope to continue making an impact on a broad scale, both in healthcare and other areas our country faces. I have some state level experience with policy development through working in the California State Assembly, and I am eager to continue that work now at the federal level."
Along with Dr. Hines, U.S. Ambassador Susan Rice is a member of and leads the DPC. And she serves as the Domestic Policy Advisor to the President.
Dr. Hines added, "Under [Rice's] supervision, the DPC has been integral in the passage of legislation like the American Rescue Plan, the Inflation Reduction Act and other landmark bills. The entire DPC team is experienced and driven. Working alongside colleagues with decades of experience in a variety of domestic policy areas has been inspiring."
Q&A with Dr. Harrison Hines
Janelle Morrison: What made you focus primarily on public health? How would you explain your professional purpose with regards to social ethics and physician/patient advocacy?
Dr. Hines: For most people, good health stands proximate to one's ability to function well in society. My dedication to serving the needs of my community drives my interest in public health. However, there are other problems that must be addressed in order to address someone's health. For example, if one of my patients is underinsured, unhoused, food insecure, or lacks transportation to get to my clinic, treating their stroke, while vital, will not help them live a full and healthy life as much as insuring them, housing them, securing nutrition for them or providing them with transport. I see myself as a person dedicated to serving people in whatever way I can, whether through doctoring or other avenues.
JM: Please explain in detail the initiative to end hunger and improve nutrition. Is this a national initiative with hopes of expanding into a global initiative?
Dr. Hines: More can be read on the White House Conference on Hunger, Nutrition, and Health website [health.gov], but our goal is to make significant headway in these areas as I mentioned above. Global hunger and malnutrition are pressing and monumental problems. Through numerous mechanisms like USAID funding and international development, the U.S. government continues to work to improve food security across the globe. In concert with those efforts, the conference goals are to end hunger, improve nutrition and improve health across our nation.
JM: Do you feel that the events of 2020 and the ripple effects of that year have enlightened and motivated more people to be better humans, or do you feel that we, as a nation, took ten paces backwards with regards to social ethics, accessibility to quality health care, equity in education, support of humanitarian efforts, etc.?
Dr. Hines: While reflecting on the tumult of 2020 threatens to dash hope against the craggy rocks of despair, my optimism remains buoyed still by the humanity and decency I see across our nation, struggling against the torrents alongside me. I used to tell people that being a doctor is the greatest job in the world because I see love every day. Listening to a stroke patient in the emergency room tell how their concerned neighbor checked in and found them on the floor, hearing a spouse of a Veteran explain sacrifices made caring for her cognitively declining husband, watching a community advocate for a patient with substance use disorder who needed a heart transplant … To not have hope would be to deny the compelling testimony of their lives. My colleagues at the federal government are among the most dedicated, competent and compassionate I have ever known. Watching them work, often behind the scenes and unrecognized, is inspiring beyond description. Our nation faces challenges, but I refuse to believe they are insurmountable.
JM: What can individuals and communities like Carmel do to help you and your fellow members' efforts?
Dr. Hines: View everything in life as an undeserved gift and take nothing for granted. I believe anything that I have is a gift entrusted to me so that I may multiply it and give it to others. One concrete way to practice this principle is to actively seek out and listen to people whose political beliefs differ from yours. I believe most people are trying to do what they think is right. Though your opinion of what is right may differ from another person's, try listening to that person and understanding why they think differently and give them the benefit of the doubt. Enter into the conversation with the presumption that they are truly trying to do what they believe is good.