CHS Show Choirs are Spectacular All Year Round
November 2018
Writer // Janelle Morrison          Photography // Courtesy of CHS Show Choirs
While the mad rush of ticket sales for Carmel High School's Holiday Spectacular has commenced, we wanted to take a look at what makes CHS' show choirs, all 10 of them, spectacular all year round. The caliber of talent, the dedication of both the students and directors and the unconditional support from parents and guardians obviously create the foundation of an extraordinary high school show choir program. Additionally, the evolution and success of CHS' competing show choirs is due in part to one iconic choreographer's dedication to excellence and his belief that CHS show choir students are truly spectacular.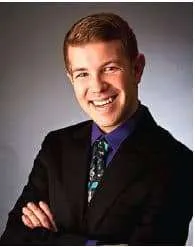 Sharing the behind-the-scenes story with us is Kyle Barker, associate choral director at CHS. Barker is in his second year of teaching at CHS. He is a 2013 graduate of Indiana University and was a member of the Singing Hoosiers. He spent four years teaching at Northridge High School in Middlebury, IN, before joining the staff at CHS in the fall of 2017.
"I was blessed enough to get the opportunity to come to Carmel, and it has been great," Barker said. "I teach four of the 10 choirs and assist with two of the others. I went to Cathedral High School and had tons of great opportunities while I was there. I was in band and choir and all that, but there was always a part of me that was like, 'Oh, to have the opportunity to be a Carmel Ambassador.' Then when I was at IU and was singing with groups such as the Singing Hoosiers and someone new would come in that was a former Carmel Ambassador, it was always like, 'Whoa, you know they're going to be really good.' How I would've loved to be in that group [Ambassadors], and now I get to lead them. In a way, it's come full circle for me."
Barker emphasized that the students' dedication to the program throughout the school year and completion season, which begins in January, is without question why the program has a highly-respected reputation throughout the nation. He credits Ron Hellems and Ann Conrad who preceded him for building such a strong foundation.
"The Carmel Ambassadors were one of the first [high school] show choirs in the country – in existence period," Barker explained. "Thanks to Hellems and Conrad, definitely, but it is also thanks to Dwight Jordan who was really the person who came up with the concept of show choir."
Dwight Jordan is a music educator, director, choreographer and producer. Jordan is a co-founder of Show Choir Camps of America. He is internationally known for his choreography and has choreographed many award-winning show choirs, including the Carmel Ambassadors. Jordan directs/choreographs for shows in Branson, including the Showboat Branson Belle at Silver Dollar City.
In 1977, Jordan was Mt. Zion High School's instrumental director in Illinois. Barker shared that Jordan approached the choir director at the time about having some of his students perform along with the choir and even choreographed one of the numbers for that particular concert.
"The concept took off like wildfire," Barker said. "The fact that one of the first show choirs in the country now has, essentially, one of the individuals who are responsible for what show choir is today and is helping lead the Carmel Ambassadors is a huge blessing not only to them but for our entire community."
Barker continued, "This will be his fifth year choreographing for us, and we take it upon ourselves as directors to educate the students on the history of what he has done for the art form and make sure the that we don't take him for granted. He is always telling us how awesome the students are. What I really appreciate about him is that he is really humble and is constantly trying new things for which he is a model for what everybody should be doing, which is continuing to learn."
As the students are preparing for competition season with Barker and Jordan, they are also preparing for their most popular performance of the school year – one that has been a tradition for countless families and people even beyond the boundaries of Carmel, Indiana – Holiday Spectacular.
This year's theme, "Once Upon a Holiday," will be a collection of holiday and winter tales.
"We're going to perform different songs that remind us of stories about the holidays, of wintertime and of spending time with family and friends," Barker said. "The kids are really excited about it. This will be the 27th year for Holiday Spectacular, and it just keeps getting bigger and bigger. We have a 40-member student orchestra that plays with the show."
Barker concluded, "When I started here last year, our program had 475 students. This year, we are close to 530. We are also making an effort to reach out to our elementary and middle school students."
Tickets are on sale for this year's Holiday Spectacular shows that run Dec. 6-9. Visit ticketracker.com for tickets and showtimes