"Let the Eagle Soar" Over Hamilton County
July 2019
Writer // Janelle Morrison Photography // Adam Seif
As the nation celebrates its independence this July, we take a moment to recognize another meaningful symbol of our country's strength and resiliency—the bald eagle. Carmel resident and bald eagle enthusiast Adam Seif shared his remarkable stories and images of our national bird to advocate for the continued progress that the bald eagles are making at repopulating their territories but also to remind our readers that the bald eagles' success and survival depends a great deal upon us humans.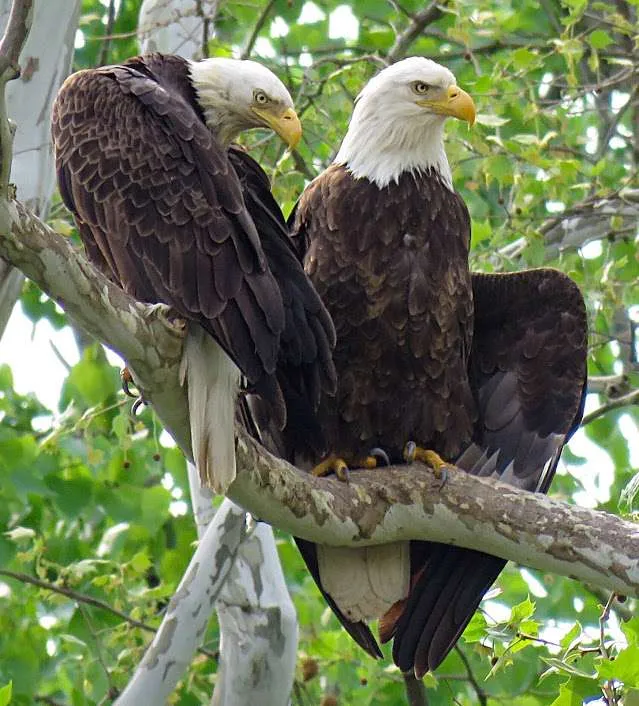 The bald eagle was designated the national bird of the U.S. in 1782. It was once a federal and state endangered species. Their near extinction was due to hunting, loss of habitat and a widespread use of pesticides that decreased reproduction.
According to the Department of Natural Resources (DNR), bald eagles nested in Indiana from November through March until the 1890s. Bald eagles are typically spotted along most rivers and large bodies of water. Seif has located nests throughout Hamilton County over the last few years but has had numerous encounters near the Eagle Creek Reservoir.
As part of a nationwide effort to save the bald eagles from extinction, the state of Indiana introduced the Indiana Nongame and Endangered Wildlife Program in 1985. Following that, the Bald Eagle Reintroduction Program allowed 73 eaglets to be brought to Indiana from Wisconsin and Alaska during 1985–1989. The eagles were monitored and cared for in a secluded bay on Lake Monroe until they became old enough to fly and fend for themselves in the wild.
Due to the preservation efforts by the nation, state and enthusiasts, in 2007, the U.S. Department of Interior took the American bald eagle off the Federal List of Endangered and Threatened. Bald eagles will still be protected under the Bald and Golden Eagle Protection Act for Take of Eagles. Bald eagles were delisted from state endangered to a species of special concern in 2008. By 2016, DNR reported that there were an estimated 300 eagle nesting territories in Indiana and the number of bald eagles thriving throughout Indiana are on the rise.
Seif graduated from Carmel High School, along with his twin brother, and the two left for Western Kentucky University, where they both studied arts and graphic design. Today, the Seif brothers own and operate their lawn and garden service company, The Seif Experience. Sief's enthusiasm for the outdoors and a memorable encounter ignited his passion for researching and tracking bald eagles in Indiana.
"It was 10 years ago last winter. I was on 56th Street by Eagle Creek Park on the west side of Indy," Seif recalled. "It was a winter evening, at dusk, and I was driving over the reservoir when I saw this bird come down really low near the road. I caught another glimpse and saw the white head and tail and immediately did a U-turn. I got out of my car and saw the bald eagle sitting on some ice in the middle of the water. I watched him for probably 20 minutes, and then he took off with his big wings. I had never seen one in the wild before."
Seif developed his passion and began researching bald eagles. He has located several nests in and around Hamilton County and reports new ones to DNR, which adds the location to its registry and aides in protecting the nest.
"This past winter, I saw a bald eagle circling over my parents' house in Crooked Stick," Seif shared. "I have seen them flying over West Park too. They can fly several miles from their nest site, so I encourage people to always look up. You never know what you may see."
Seif shared many of his experiences while observing bald eagle nesting site, and he has seen and heard some remarkable things over the last several years. When asked what it is about bald eagles that people might be so enamored by, he replied, "For me, it's that wingspan of theirs. It's at least 7 feet. And those eyes—they're piercing and see right through you."
Bald eagles have different types of distinguishing calls as well, depending on what they're trying to communicate and to whom.
"The best sound that I've heard and that stands out in my mind [happened when] my 13-year-old son and I were out at Eagle Creek one morning. It was so foggy, you could hardly see across the water, but we could hear them calling on the other side of the reservoir. I still get chills when I think of that."
While he has learned how to properly approach a nesting site without disturbing the eagles and eaglets, he cautions against people approaching one without care.
"I wouldn't want anything more to challenge them [the eagles] than what they're already challenged with," Seif said. "If you come across a nest, please report it to DNR, and they will help protect it."
When asked what the biggest threat to bald eagles is in their territories, Seif straightforwardly replied, "People are."
Bald eagles have expressive and unique personalities. Eagles are not necessarily communicable birds—usually you will find a pair in a territory. Bald eagles will bond for life with their mates.
"About three years ago, I was observing a pair with three eaglets," Seif said. "The male hadn't come back to the nest, and the female just waited. Several hours passed, and I had to leave, but the people who lived across the street said she waited for him all night. An officer found the male the next day on the road. He had run into a telephone wire. I watched as she cared for their babies on her own. I observed her mourning her mate. The following fall, there was a new male flying around her nest. I think it's cool that they can bond again after losing a mate [for the sake of the species] and am fascinated with how they find each other. It's not like they have Match.com for eagles."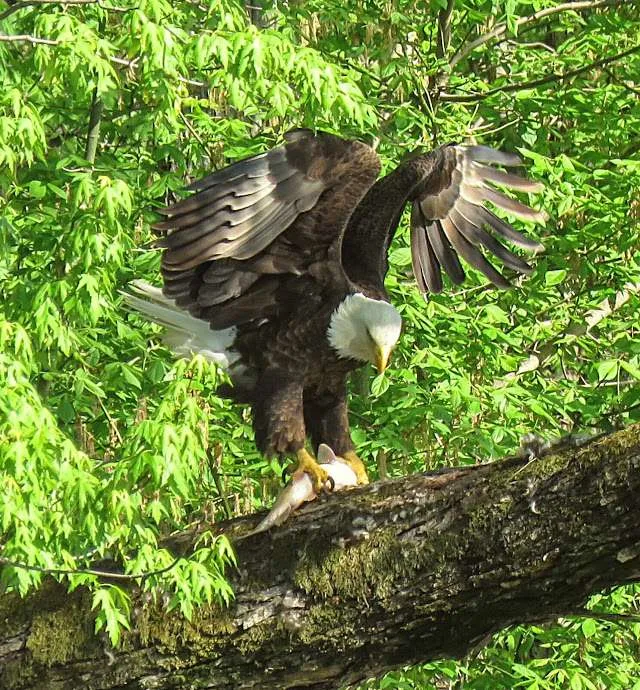 Seif was thrilled to see the new couple raise eaglets of their own thereafter. His passion is shared by other bald eagle enthusiasts, who continue to work at spreading awareness and educating people about these magnificent kings and queens of the skies.
"Bald eagles have this aura that surrounds them, and it's what draws me in," Seif said. "The coolest thing you could ever see in this lifetime is that white face and those big wings—it gets me every time."
Bald Eagle Fun Facts
Immature bald eagles have mostly dark heads and bodies with white mottling throughout. Young birds will gain adult plumage at 5 years of age.
Males and females are identical in color.
Bald eagles can live up to 38 years in the wild.
Males weigh 8 to 9 pounds, while females weigh 10 to 14 pounds.
Wingspan of 6.5 to 7 feet.
Total body length ranges from 28 to 38 inches.
Bald eagles may fly up to 40 mph during normal flight, but they can reach speeds of 100 when diving for prey.
Active flight is with slow, powerful wingbeats. They soar and glide, usually on flat wings. Bald eagles have a noticeable, unusual flight behavior of banking and flapping their wings vigorously while vertical.