Carmel Farmers Market Vendor Spotlight: Generations Pie Company, LLC
August 2019
Writer // Janelle Morrison Photography // Staff
Marketgoers may not know that the Carmel Farmers Market (CFM) is just as committed behind the scenes as they are out at the market every Saturday morning. The CFM committee visits its vendors who sell prepared foods at their commercial kitchens. A condition of being a CFM vendor, they must be certified and inspected by the County Health Department. We went along for a vendor visit with CFM committee members and paid a visit to one of our favorites—Generations Pie Company.
Carmel marketgoers were first introduced to Generations Pie Company at the Carmel Farmers Winter Market a few years back and are enjoying the delicious assortment of pies that are all named after relatives and friends of the owner, Maria Johnson. Johnson attributes her entrepreneurial spirit to her father, Eddie Woods Jr., and her passion for baking from her grandmother, Hattie Leota Overton Mann. Johnson learned by watching her grandmother throughout her youth and applies the same "from-scratch" methods and recipes that were handed down or created by her grandmother.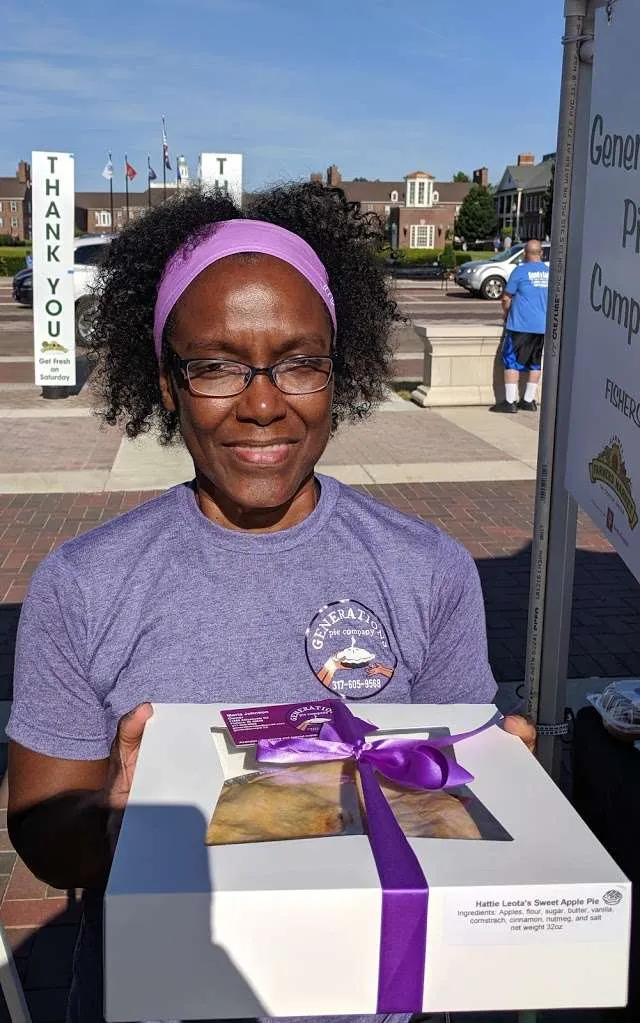 While developing her passion and skills for baking, Johnson graduated from Butler University with a business administration degree and earned her MBA from Anderson University. After a 35-year-long career as an accountant, Johnson retired in December of 2017 to focus on her company that she established in 2016 and which has become a popular vendor in area markets such as Carmel, Fishers, Brownsburg, Binford and City Market in downtown Indianapolis.
Johnson spends 20-plus hours a week baking out of a commercial kitchen located in Fishers, Indiana. Customers and fans of Generations Pie Company taste Johnson's 30-plus years of experience in every single bite. Out of this commercial kitchen, Johnson and her team of five talented and dedicated individuals produce crowd-favorite pies and pastries, such as Hattie Leota's Sweet Apple Pie, Winston's Bourbon Chocolate Pecan Pie, Margaret's Rhubarb Pie, Maria's Strawberry-Rhubarb Pie, Sherry's Cherry Pie, Peachie's Peach Pie, Cinnamon Rolls, Pecan Sticky Buns, Sugar's Cobblers and assorted Yvonne's Sweet Breads.
"My earliest memory of my grandmother was as a youth, and I would watch my grandmother—every week—make the pies from scratch," Johnson shared. "It wasn't until my late teens that I really got into baking."
Johnson and her helpers will prep and make the sinfully delicious pie crusts on Tuesdays and then bake the pies and prepare them for the markets on Thursdays and Fridays.
"We will make somewhere around 100 pies a week," Johnson said. "We make a lot of small pies too because people buy more of the smaller pies so they can enjoy more than one flavor of pie. People can preorder and special order through my website and can either pick up their pies here at the kitchen on days that I'm here [Tuesday, Thursday, Friday] or they can select a market closest to them and pick it up on Saturday."
When asked what her all-time favorite pie is, she replied, "Granny Suk's Sweet Potato Pie. It was my great-grandmother Hattie McKinney Overton's recipe, and it's over 100 years old. People keep trying to get it from me, but I won't give it out!"
Johnson enjoys the Carmel Farmers Market a great deal and shared that she finds the market to be incredibly supportive to its vendors and the customers to be very engaging.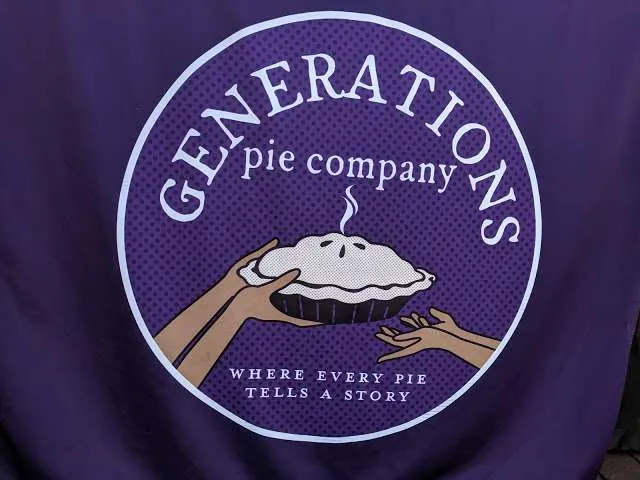 "When I was new to the [Carmel Farmers] Market, people would come up and congratulate me," Johnson said. "Everyone is very welcoming, and the customers give me feedback, which I appreciate. I get mostly positive feedback, but I listen and make improvements based on the feedback I get. I love the customer interaction that I get at this market. If I was in a store, I wouldn't get that."
Order your pies and other delectable pastry treats from Generations Pie Company at generationspie.co.
Visit carmelfarmersmarket.com for a complete list of events and vendors.
Carmel Farmers Market August 2019 Entertainment and Events
AUGUST 24, 2019
Mesa Rain
Entertainment
Mesa Rain is a band based in Carmel that plays Austin-Influenced original Americana along with popular covers from blues, rock and country artists.
AUGUST 31, 2019
Witch Hazel Valley People
Entertainment
American Roots and Western Swing music. You're bound to sing, clap your hands and go to cuttin' the rug!
AUGUST 31, 2019
IU Health North Hospital – NICU department
Demonstration
The NICU department will be providing information about the NICU (Neonatal Intensive Care Unit) department.