Carmel Clay Schools Welcomes Its First Mental Health Coordinator:
June 2019
Writer // Janelle Morrison Photography // Laura Arick
The Carmel Clay Schools (CCS) board of trustees recently approved the hiring of Stephanie Whiteside as its first mental health coordinator, officially beginning her duties on June 3. Whiteside earned her master's degree in social work from the University of Chicago. She began her career as a therapist in the Indianapolis Public Schools district and recently served as the director of Cummins Behavioral Health Systems overseeing the clinical and operational health programming for 113 Indiana schools throughout five counties.
"I've been so encouraged by the positive responses by the community and by the support that this position has been given," Whiteside said. "I think CCS academics and achievements speak for themselves, and I really think the investment in students' mental health further shows that CCS care about the whole child and what is best for the students. That played a large part in why I made this decision [to accept this position]."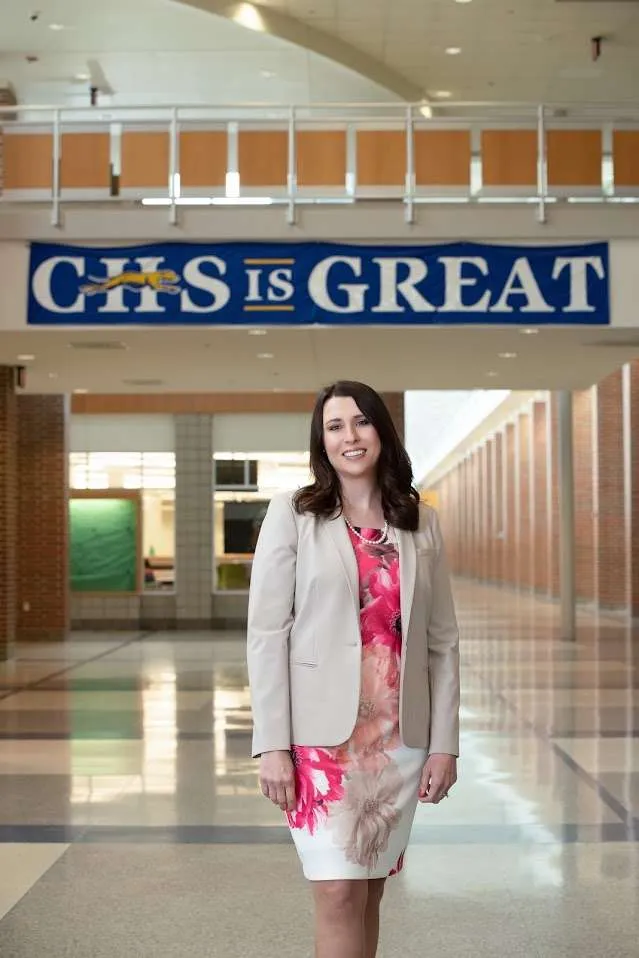 Whiteside has been in the mental health field for a little over 10 years, starting out as a school-based therapist. During that time, she saw though the lens of education the value in working with students and their families in a school environment.
"Interestingly, I was diagnosed with ADHD in the third grade, so I know firsthand how mental health influences social functioning and academic functioning," Whiteside shared. "When I look back, I think of those teachers and mentors that were there to support me throughout [my] journey, so that's really what piqued my interest in the [mental health] field."
Whiteside continued, "My experience at Cummins has provided me the opportunity to work with different school systems. I've been able to work with administrators, teachers, students, families, law enforcement and other community partners. We've been able to develop comprehensive mental health services in the schools."
Transferring those skills over to her new role at CCS, Whiteside is spending her first 30 days getting acclimated to CCS administrators and community partners.
"I also want to get a better understanding of the needs and strengths of the school community," she stated. "Then, I will begin developing those relationships, community supports and partnerships within the community that I think are going to benefit our students and families. I am also developing that internal knowledge base, the supportive interventions, and am identifying important linkages for students who may need more intensive support as well."
Role of Mental Health Coordinator
When asked about the role that the school district's first mental health coordinator will play on the district's efforts to reduce the numbers of student addiction/overdose, suicide, depression and other mental health-related occurrences throughout the student body, Whiteside replied, "When I speak with teachers, parents and community members, many of them bring up these same concerns, and I hear a lot of people ask, 'How can we help?' and 'What can we do?' I hope to spread awareness, and I hope to provide that education to assist students and their families and the school professionals on identifying the warning signs and identifying strategies to help support our youth."
Whiteside emphasized that recognizing risk factors and warning signs are the first step to reducing these issues and occurrences.
"I think the next step is connecting to those beneficial resources and supports that can come from within our school or our community," Whiteside explained. "I see my role as a resource, a support and a bridge for those resources and partnerships. I think that's where my background as a social worker is very beneficial because it's just natural that I want to go out into the community, and I want to build those relationships and partnerships. I also want to maintain and foster ongoing partnerships that we already have. You mentioned community partners such as the Carmel Youth Assistance Program and Carmel Police Department, and I want to support their efforts as well, as they're making a difference in our community."
Obstacles To Improving Mental Health for CCS Students
When asked what the present obstacles are in improving the mental health and well-being for the CCS student body, Dr. Michael Beresford, superintendent at CCS, responded, "I don't know that there is anybody who doesn't want to help a student in need. I think the obstacles are things like stigma. Sometimes there's a stigma associated with mental health, and we've got to rid of that. We're chipping away at that stigma, but it's still there, and until we [in the community] are comfortable with mental health needs having the same importance as physical health needs, we're going to have to keep working until we get that [concept] to be widely accepted."
The focus among the administrators at CCS is not solely on the mental health of its high schoolers but on its middle school and elementary school-age students as well.
"The earlier [the intervention] the better," Whiteside expressed. "The culture of making connections is key, and once we start modeling and talking about mental health and focusing on our strengths and restorative practices, I think that students are going to start developing the ability to regulate, and we will be able to identify any concerns much earlier on as well."
Dave Woodward, director of student services, added, "When talking about supports for younger kids, we [CCS] have a very strong core of social workers in our elementary schools now who are working closely with our families in need and with our community resources. That's part of why we're so excited that Stephanie came on board because she has the background that can provide additional leadership for that group that is already doing such incredible work at our schools, especially our elementary schools."
Whiteside added, "I think that making connections with children is key, and as human beings, I think we're wired to develop connections. As adults, what we can do is model those healthy behaviors. We need to prioritize our mental health, practice self-regulation and preservation. We need to not be afraid to reach out to our resources, and we need to talk about the importance of mental health and well-being with children. Let them know that if they ever feel that they're not well that you are there to support them, that they have a community that is there to support them. Those are key factors in developing that village."
Speaking directly to parents and guardians of the CCS student body, Beresford said, "I think sometimes there is a feeling that if our kids are struggling or if you're struggling as a parent [or guardian] that you feel like you're a bad parent and you isolate instead of reaching out for help. Parenting is a tough job. We have to get rid of those barriers so that when you're struggling, or your child is struggling, you feel comfortable reaching out for help. The thing we say a lot around here is, 'It is OK to not be OK.' The key to that is getting the help that you need."
Woodward concluded, "I can tell you that out of all our administrators, social workers, student services coordinators and SROs, there's not one of them that wouldn't be able to point you in the right direction immediately based on whatever the situation is that you're dealing with. The connections in this community are so strong, and there are so many resources. We just need to make sure that our parents [and guardians] know that we can help them access those resources."
Contact CCS at ccs.k12.in.us.