Bobby "Slick" Leonard: Our Hoosier Hall of Famer
Writer / Ray Compton
Photographer / JJ Kaplan
Updated: April 13, 2010
Perhaps the best description of Bobby "Slick" Leonard comes from someone who has evaluated the accomplishments of many Indiana basketball heroes and legends during his long career as a Hoosier State wordsmith. Bill Benner, north of 60, has tangled with Bob Knight's personality, described Reggie Miller's exploits and now works with Larry Bird's Pacers. But when asked how to best describe Leonard and the long-running basketball episode that has played in Terre Haute, Bloomington and Indianapolis/Carmel for 75 years of his 82 years, perhaps Benner sums it best in seven words. "He is the personification of Indiana basketball," Benner said.
And it is hard to resist Benner's declaration. Indeed, our state has hosted many basketball celebrities since we fell in love with the game. But, mostly, our fabled characters have come and gone through this crossroads of America: Miller, for instance, grew up in California and has returned to the West Coast. John Wooden was born in Martinsville and schooled in West Lafayette but reached greatness in Los Angeles. Oscar Robertson, born in Tennessee, starred in Cincinnati. Even, Bird of French Lick and Indiana State fame, became a national name as a Boston Celtic. Thus, can anyone argue that Leonard—born in Terre Haute, educated in Bloomington, and a resident, coach and broadcaster in Indianapolis/Carmel for almost five decades—is not the biggest Hoosier basketballer of them all? This full-blooded Hoosier seemingly epitomizes all of us in Indiana.
So when Leonard ventures to Springfield, Mass., in August to join the storied Naismith Memorial Basketball Hall of Fame, there will be more Hoosiers on board for the ceremony than his wife and basketball partner, Nancy, his family and Pacers executives. There will also be hundreds, thousands or maybe millions of us in spirit when one of ours accepts the next sainthood into the sport he cherishes. We will all be vicariously living the experience that Pacer executives enjoyed this winter when his finalist status for the hall of fame was announced.
Recently, the Leonards sat in the living room of their Carmel home to take part in another of the countless interviews reviewing the chapters of their careers. Some questions were old. Some inquiries might have been new. Whatever was asked, both amazed us with their ability to recall the highest of accomplishments and the smallest of trivia points related to being full-time Hoosiers.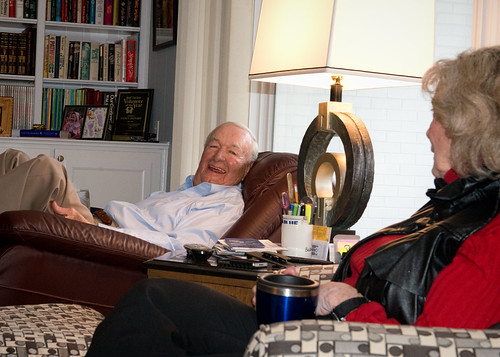 The Slick from Terre Haute
Okay, this saying is not as romantic as Zeke from Cabin Creek (Jerry West) or the Hick from French Lick (Bird), but the nickname of Slick has been heard for a long time in Indiana and other basketball outposts. So, who invented Slick? It was not Dick Vitale or Digger Phelps. Instead, Slick was born during a bus trip the Los Angeles Lakers made through West Virginia for preseason games. Leonard was involved in a heated Hollywood Gin match with Coach George Mikan at the front of the bus. "I blitzed him," Leonard recalled, "and one of the players said that I was too slick. It stuck." Leonard's love for cards-and winning for money-are part of his basketball folklore.
The first "BOOM BABY"
It would be easy to theorize that the "BOOM BABY" blurted by Leonard for a Pacer 3-point basket was invented to label 3-pointers scored by Miller during his 18-year career with Indiana. After all, Leonard announced almost all of Miller's games, and the 1987 draft pick drained 2,560 3-pointers. But that was not the case. "BOOM BABY" was hatched when Leonard was coaching the Pacers in the seventh game of the semi-finals of the 1975 American Basketball Association (ABA) playoffs. Denver held a 2-point lead with seconds left, and the Pacers got the ball to George McGinnis in the low post for a potential tying basket. But McGinnis kicked the ball out to a wide-open Billy Keller in the far corner. Game, set, Boom Baby. "Billy drilled it, and I shouted "BOOM BABY," Leonard recalled.
And the biggest "BOOM BABY"?
"It was at the Miracle in Madison Square Garden," Leonard said. "Reggie scored eight points in 13 seconds. One, he was right in front of Spike Lee, and he backed up for a 3-pointer. He nailed. I have never seen anything like it." Today, Miller's company is called Boom Baby Productions.
How about that red, white and blue basketball
Along with having teams called the Anaheim Amigos, Minnesota Muskies and Pittsburgh Condors, the ABA was also known for using a red, white and blue basketball. Founders of the league thought the basketball was a sign of patriotism. It took Leonard time to accept the colorful basketball. "I was an old NBA player," he said. "We didn't have that kind of stuff." Leonard also had to adjust to the 3-point shot. It, too, was an ABA rule and was scorned by the NBA…until Leonard led a charge to insert the "home run" into the league in 1979.
"I told them that the fans in Boston and New York are no different than the fans in San Antonio, Denver and Indianapolis," Leonard said. "Our fans loved it, and so will theirs." There was only one dissenting vote in accepting the 3-point shot. It came from a longtime Leonard rival, Red Auerbach.
Slick vs. Red
It is doubtful that Leonard and Auerbach ever exchanged Valentine's Day cards. The rivalry between the two spilled over into the media and on-court. Even Nancy Leonard—who claims she and Auerbach had a respectful relationship—once challenged Auerbach when the Celtics came to Market Square Arena for the Pacers' first NBA game in 1976. Nancy, in charge of game entertainment and activities, was visited by a referee during the game. The official said Auerbach was upset about the volume of the music and demanded that it be turned down. Nancy had a rulebook in her purse, showed it to the official and noted there was no rule on the loudness of music. After the official showed the rulebook to Auerbach, the Celtic coach slammed the book on the floor. Eventually, the Celtics rallied from double digits and won in overtime. "We were beating their butts," Leonard said. "If not for (John) Havlicek, we would have won."
Champions vs. champions
But while Leonard grudgingly concedes that Boston won that match, he is not ready to surrender that the Celtics of Larry Bird, Robert Parrish and Kevin McHale in the 1980s were better than his ABA championship teams in the 1970s, featuring Roger Brown, Mel Daniels and George McGinnis. "That frontline of ours could have competed with anybody," the coach said. "Larry couldn't have handled Roger, and there is no way Kevin could have guarded George. Plus, Mel would have been a big problem for Parrish."
Those disagreements with the officials
During his coaching days, Leonard won 529 games for the Pacers. And he guided the blue and gold to three NBA championships. But he was also known for some incredible outbursts when it came to referees, ball racks, timekeepers and others who stood in the way of his pursuit of success.
Let's review some of those moments:
The Ball Rack. Before Bob Knight fired a chair across the floor at an Indiana game in Bloomington, Leonard became upset with referee Ed Rush in a game at the State Fairgrounds Coliseum and tossed a full ball rack at Rush. Balls were flying everywhere, and Leonard earned three technical fouls. He also reported to the ABA office in New York the next day.
The Mormon Punt. Leonard remembers the passive following there was in Salt Lake City, a new franchise, when the Stars arrived. But it wasn't quiet for long after Leonard turned the Salt Place into bedlam one night. After disagreeing with an official's call, Leonard discovered the basketball at the free throw line and proceeded to imitate Pat MacAfee in punting the ball into the 50th row of the arena. From then on, Leonard recalls that the enthusiasm at Utah home games was high.
The Slow Timekeeper. There was no need to rile up the fans in San Antonio, but Leonard did one time. During an ABA playoff game, the game was tied, and San Antonio had the ball and a chance to win the game. All broke loose when Leonard accused the timekeeper of having a slow trigger on starting the play clock. He grabbed the timekeeper, squared off with the San Antonio coach and was set to battle the city of San Antonio and the state of Texas.
The Stolen Whistle. This, time it was longtime official Wally Rooney who received Leonard's wrath. After disagreeing with Rooney on a call, the Pacer coach grabbed Rooney's whistle and took it with him. "You have to be a little bit nuts to coach," he admitted.
The Best-Ever Team
Almost 300 different players have worn the Pacer colors, and the roster has gone A to Z as in Abernethy to Zeno. So, if Bobby Leonard were to name his all-time Pacer starting lineup, whom would he select? "I'd have to have Reggie," he assessed. "Got to have Reggie." His next three players were selected in rapid-five: the trio of Mel Daniels, Roger Brown and George McGinnis. And the point guard? It came down to Mark Jackson and Freddie Lewis, another ABA legend. He paused and reflected. "Give me Freddie," Leonard stated. "He was the ultimate floor leader." As for a sixth man? "I'd bring Paul (George) off the bench as my sixth man," he noted. "He has a chance to be one of the best."
Hall of Famer
And how did Leonard feel upon learning he was being named to the Naismith Memorial Basketball Hall of Fame? "The first thing I thought was what we (family, friends and fans) had all been through," he said. "It is a great honor for everyone who has been with us on this journey."
Passing of Bobby Leonard
Sadly, Bobby Slick Leonard passed away on April 13, 2021 at the age of 88.