The Cake Bake Shop: Life Is Even Sweeter in Carmel
Writer // Janelle Morrison Photography // Staff
Once there was a place where people would gather, engage in thoughtful conversation in an elegant setting and enjoy a delectable meal from a "scratch" kitchen. Patrons over several decades contributed to an exquisite tapestry of memories that makes the L.S. Ayres Team Room legendary. In my opinion, since the famed tearoom closed in 1990, there hasn't been a place that matches its former splendor, until now.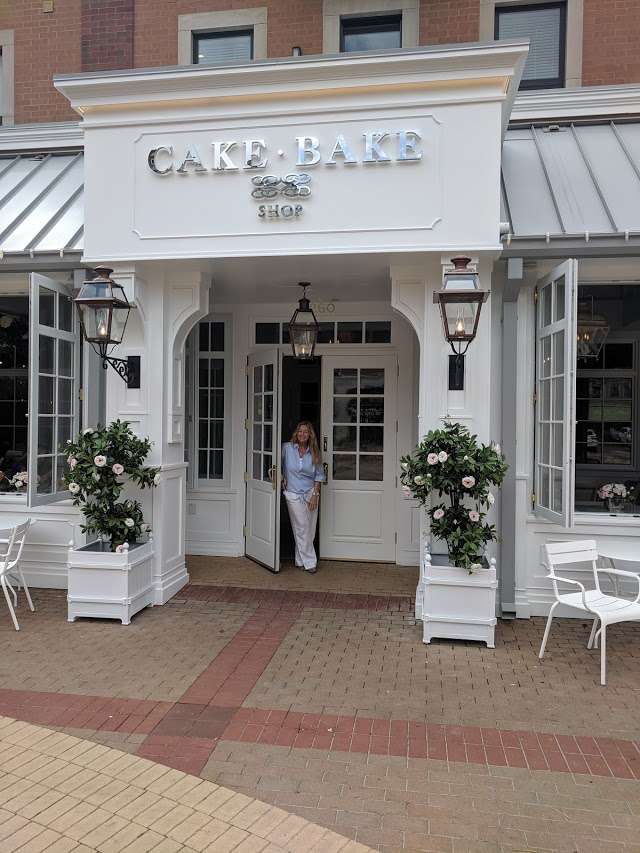 As her existing fans know, Gwendolyn Rogers opened The Cake Bake Shop in 2014 at the Broad Ripple location. She recently opened her second location in Carmel, where The Cake Bake Shop glistens while nestled in the heart of City Center. Rogers' attention to architectural detail is equal to her passion for details regarding incomparable "comfort" food and impeccable service. The Cake Bake Shop in Carmel is proof of that. Upon my first visit at the Carmel location, I was spellbound. It is wonderment redefined and evokes a welcoming environment to all who stroll through its doors.
The Ingredients that Make a Fairy Tale
Rogers was born in New Orleans, a fact that comes through in some of the decor and a few delicious items, such as the shrimp po'boy that is on the menu. She has lived in Los Angeles, where she was an agent for male models, and prior to moving to Indiana, she and her husband, J.B. Rogers, along with their three boys, lived in Sun Valley, Idaho. J.B. Rogers is a native Hoosier and graduated from Park Tudor School. He is in the film industry and has worked on films such as "There's Something About Mary" (1998) and "American Pie" (1999). Rogers credits her husband for his unyielding support and shared how the success of her endeavors have come after a great deal of perseverance and a strong work ethic.
"I've just evolved as I've grown," Rogers said. "When I first started, I didn't have this big grandiose plan that I wanted to open this big restaurant and be a restauranteur—that was not part of my plan at all. I just wanted to create a place where I could do what I like, and what I like to do is cook."
Rogers created The Cake Bake Shop in Broad Ripple with items from her own house: the china and silverware from her own cupboards and the pots and pans from her own kitchen. It didn't take long for the original location to become a mega success and a household name.
"It [The Cake Bake Shop in Broad Ripple] has become a destination," Rogers acknowledged. "It's like opening up the doors to my own house, and I think that's what makes it so special. I'll do whatever I need to do to make sure that I'm successful, and I'm not afraid to work hard."
The Cake Bake Shop in Carmel
It is a beautiful location that is both opulent and comfortable. The exterior design is quite different from the interior design. In fact, it is a stunning reveal once you have walked through the interior doors.
"It's a beautiful space, but it's an approachable space," Rogers said. "Even though I have thousands of crystals hanging from the ceiling, it's still a place where you can come in your shorts and a T-shirt and have a great lunch or a great dinner. I don't care what you wear; I want everybody to come and have an enjoyable experience. I want it to be comfortable for everybody and to offer food that is approachable. I have chicken velvet soup that is a very simple soup recipe, but it's made with love, and it brings back memories for so many people. My food is approachable food that people love. It fills your soul and makes people and children happy."
A brief sidebar: The chicken velvet soup recipe is the original L.S. Ayres recipe—on steroids. It was honestly the best I've ever had, and in my humble opinion, the addition of shredded roasted chicken— roasted on-site—has made this recipe even more delicious than the original.
Rogers emphasized that her restaurant is an extension of her personal home, where patrons of all ages are welcome.
"I don't care how old you are, 6 or 60, you should still enjoy that sense of wonderment that life can offer," Rogers said. "From the coloring paper with the swans that I designed and colored pencils for the little kids, the [animated] unicorn in the window with the magic fairy and the hot air balloon made out of crystals, to the ice cream that we make from scratch and all of the delicious treats that we sell out of our [on-site] bakery, I wanted to create a place where people are happy."
A Place to Build Memories
Rogers and her entire staff of 120 are excited to see the traditions they have built at the Broad Ripple location become traditions at the Carmel location. Rogers is famous for her holiday decorations and seasonal offerings, in addition to her sinfully delicious cakes and baked goods that have become traditions for so many families and special occasions. Additionally, Rogers' cakes have become favorites among many national celebrities and have even made Oprah's "O" list.
Though she never received any formal culinary training, Rogers has earned several accolades for her own recipes, and her reputation is ever growing.
"I love to cook more than anything," Rogers shared. "It is peaceful and therapeutic to me. It's creative because I'm making something from just a bunch of stuff, and when added altogether, it creates something amazing. I want people to come here and create happy memories. Come with your family, your friends, your mom. Celebrate birthdays and special moments but also come to just relax. Life is too short, and it is too hard. This is a place that I want you to come to be happy because I believe that this is what it is really all about."
For reservations and more information about The Cake Bake Shop, visit thecakebakeshop.com.